May 29, 2013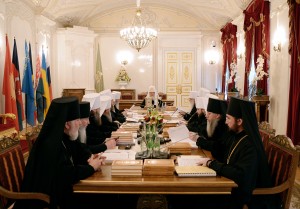 On 29 May 2013, the regular session of the Holy Synod of the Russian Orthodox Church, chaired by His Holiness Patriarch Kirill of Moscow and All Russia, took place in the historical building of the Sacred Governing Synod in St. Petersburg.
The Holy Synod resolved to establish new metropolitan area of Bryansk, Karelia and Lipetsk, named their heads and appointed ruling bishops of the new dioceses within metropolitan areas.
The Synodal Liturgical Commission presented a text of the prayer to Ss Peter and Febronia. Members of the Holy Synod approved the text which is to be included into liturgical orders of services and read after the Divine Liturgy on the commemoration day of the saints.
The text of the service to St. John, Archbishop of Shanghai, celebrated in the dioceses of the Russian Orthodox Church Outside of Russia, was confirmed for church-wide use.
Also confirmed were Regulations for missionary practice and for canonical units of the Russian Orthodox Church functioning in the penitentiary institutions, as well as the standard ordo of a monastery attached to a stavropegic monastery.
Source: DECR