April 30, 2013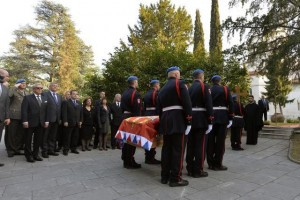 The remains of Queen Marija Karađorđević of Yugoslavia, the mother of the last Serbian monarch Petar II Karađorđević, arrived in Belgrade from on Monday.
The coffin was met at Belgrade airport by the Karađorđević family, PM Ivica Dačić, advisors to the Serbian president Oliver Antić and Radoslav Pavlović, and Serbian Orthodox Church Bishop Atanasije Rakita of Hvosno.
The remains of the wife Alexander I of Yugoslavia have been taken to the royal chapel of St. Andrew The First-Called, where Serbian Patriarch Irinej lead a service.
The body will remain at the chapel through May 26 when the queen will be buried in the crypt of the Karađorđević dynasty in Oplenac, next to her son Petar II and her daughter-in-law Queen Aleksandra.
Queen Marija was interred at the Royal Burial Ground at Frogmore, in Britain, and permission from British Queen Elizabeth was needed to move her body, because Marija was Queen Victoria's great-granddaughter and King Edward's niece.
She was the daughter of King Ferdinand and Queen Marie of Romania, niece of British King Edward VII.
She married King Aleksandar Karađorđević in 1922, the monarch of the Kingdom of Serbs, Croats and Slovenes, and later the Kingdom of Yugoslavia.
She died in exile in London in 1961, aged 60.
The remains of Petar II were brought to Serbia from the United States this January, while the remains of his wife Queen Alexandra will be transported to Serbia on May 9.
According to announcemwnts the funeral on May 26 in Oplenac will be attended by over 2,500 guests from across the world, including representatives of the royal families of Britain, Greece and Spain, and the imperial family of Japan.
Source: B92