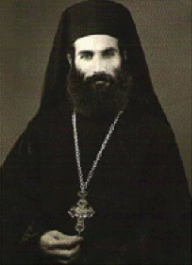 The Right Rev. Archimandrite George Chalhoub fell asleep in the Lord on Holy Tuesday, April 30, 2013.
He was born in Douma, Lebanon in 1930 to Wadih and Bahije, the second of eight children. From his childhood he felt the call to the priesthood and was responsible for starting the Youth Movement in Douma. On January 4, 1952, he left his home to enter the Balamand Monastery and school. In that same year, he was tonsured a reader during Great Lent, and on August 6, The Feast of Holy Transfiguration, he was ordained a deacon by the hand of the late Metropolitan Elia Karam of Mount Lebanon at the Church of Holy Transfiguration in Dhour Chweir while spending the summer at St. Elias Patriarchal Monastery.
In 1953, he became the deacon for the late Patriarch Theodosius VI, Metropolitan of Tripoli at that time. In 1956 when the Metropolitan was elected as Patriarch of the see of Antioch, Deacon George accompanied him to the Patriarchate in Damascus to serve as his personal secretary.
On March 12, 1959, he was ordained to the priesthood and elevated to the rank of Archimandrite by the Patriarch at the Patriarchal Cathedral in Damascus, and was the given the title of Protosangelos of the Patriarchate.
During these years, he was also in charge of the Patriarchate's publication, Alneeme, and had many other administrative tasks. In 1966, he played an important role in the election of many metropolitans and bishops, including our beloved Metropolitan Philip.
In 1967 he was kidnapped in Syria and imprisoned for 36 days because of his loyalty to the Patriarch. In 1969 the Patriarch assigned him to be the Abbot of St. Elias Patriarchal Monastery in Dhour Chweir, where he spent ten years renovating and beautifying the monastery. During the Civil War of 1975 and after, he helped many displaced families and helped them live at the monastery. In 1979 he became the parish priest for the parishes of  Chweir, Dhour Chweir and Mtein in the Archdiocese of Mt. Lebanon, and served as the Vicar of Metropolitan George Khoder in the Elmaten District. He served parishes faithfully for 30 years, renovating and adding churches.
In 2009 he was diagnosed with Alzheimer's Disease, and joined the Monastery of St. George Elharf before being transferred to St. George nursing home in Beirut. God chose for him to go home during Holy Week. What he did and accomplished in his life on earth will never be forgotten. He was a faithful son, brother, and friend, and especially a faithful servant to his Lord and Master, and a spiritual father to many.
May his memory be eternal!
Submitted by his brother, The Very Rev. Elia Shalhoub, Pastor of St. Philip Church, Ft. Lauderdale, FL