May 16, 2013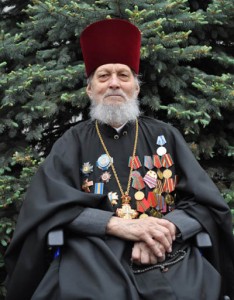 Archpriest Roman Kosovsky, the eldest clergyman in the city of Kiev and a highly-decorated veteran of WWII, reposed on May 15, 2013, following a prolonged illness.
Fr. Roman was born in 1922 in the village of Pustoha in the Vinnytsia region of Ukraine to a family of farmers on the feast day of the Protection and St. Roman (after whom he was named). In 1937 his father was shot and all the family's farming facilities were seized. His mother died of hunger: everything she had she had given to her four children. Following her death, the children were assigned to orphanages. At age fifteen, Roman was sent to Luhansk; at age sixteen, he was sent to the mines; and at age seventeen he was sent to the army to fight in World War II. Victory found him in Prague.
Following the War, Roman married and continued to serve in the army for another two decades, being stationed in Cuba during the missile crisis. In 1968 Roman, along with his wife and four children, moved to the town of Strunino, thirty kilometers from the Trinity-Sergius Lavra, which was then one of only eight functioning monasteries in the USSR. His wife, Lubov, worked in the Lavra's kitchen, while Roman worked as a guard in the theological schools. The then-Rector (who is now Metropolitan Philaret of Minsk) took notice of the believing army veteran, inviting him to study in the Moscow Theological Seminary, located on the grounds of the Lavra.
Fr. Roman began his ministry in 1975 in the Vladimir Diocese, later moving to Kiev, where he most recently served in the St. Elias Church, of which his son, Archpriest Vitaly Kosovsky, has been rector since 1991.
In the past year, with the blessing of His Beatitude, Metropolitan Vladimir of Kiev and All Ukraine, Fr. Roman was granted the highest award of the Ukrainian Orthodox Church: the Insignia of Distinction of the Primate of the Ukrainian Orthodox Church.
A memorial Liturgy will be celebrated in the St. Elias Church in Kiev at 7:00 am on May 17, 2013, following which the funeral will take place.
Grant rest, O Lord, to the soul of Thy departed servant, the newly-reposed Archpriest Roman!
Compiled by Pravmir.com