Editor's note: A typical American diet includes foods that are processed. Their ingredients are changed or are not real. Our fasting rules belong to a time before food processing and offer no guidance whatsoever in a food environment like what we have today. The following humorous article Rules of Fasting: How to Read Labels reflects what a lot of us do today when trying to figure out if a specific food meets the rules or not. We read the labels. But even if there is a little trace of milk or egg from processing on the label, you really can't consider that food non-fasting just because of the invisible ingredients.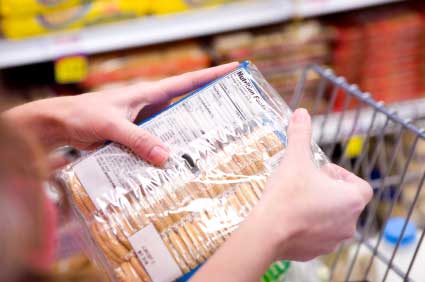 Rules of Fasting: How to Read Labels
Source: Pithless Thoughts
OK. So, one of the issues that modern culinary technology presents us with is "reading labels" for Lent. Back in the day, there were no canned foods, chemically cloned flavors, hermetically sealed wrappers, governmentally required labelling, the FDA, Food Police and trace ingredients that bind, harden, smooth and flavor our food. If you got a fish or a loaf of bread or something made of corn, it pretty much was a fish, bread or made of corn. Technology has made fasting a science and the playground of Phariseeism and obsessive compulsive attention to details. Take my beloved Pop Tarts, f'rinstance. Over FIFTY ingredients in a crust and some jammy stuff between them. Check it out:
ENRICHED FLOUR (WHEAT FLOUR, NIACINAMIDE, REDUCED IRON, THIAMIN MONONITRATE [VITAMIN B1], RIBOFLAVIN [VITAMIN B2], FOLIC ACID), SUGAR, DEXTROSE,VEGETABLE OIL (SOYBEAN, PALM, COTTONSEED AND/OR HYDROGENATED COTTONSEED OIL† WITH TBHQ AND CITRIC ACID FOR FRESHNESS), CORN SYRUP, WHEY, CRACKER MEAL,HIGH FRUCTOSE CORN SYRUP, COCOA, CONTAINS TWO PERCENT OR LESS OF CORNSTARCH, COCOA PROCESSED WITH ALKALI, SALT, LEAVENING (BAKING SODA, SODIUM ACID PYROPHOSPHATE, MONOCALCIUM PHOSPHATE), MODIFIED CORN STARCH, MONO- AND DIGLYCERIDES, SODIUM STEAROYL LACTYLATE, GELATIN, DRIED EGG WHITES, DATEM,PARTIALLY HYDROGENATED SOYBEAN OIL†, MODIFIED WHEAT STARCH, XANTHAN GUM, NATURAL VANILLA FLAVOR, CARAMEL COLOR, SOY LECITHIN, CALCIUM PHOSPHATE, COLOR ADDED, NIACINAMIDE, REDUCED IRON, VITAMIN A PALMITATE, PYRIDOXINE HYDROCHLORIDE (VITAMIN B6), RIBOFLAVIN (VITAMIN B2), THIAMIN HYDROCHLORIDE (VITAMIN B1), FOLIC ACID.
If I'm keeping the fast "strictly"… OOPS!!! look at ingredient numbers 31 through 33… Lactylate, gelatin and dried egg whites!!! DANG… not fast worthy. So WWSJTFD? (What would St. John the Faster Do?) Well dear blog readers, I am here to help you with a primer on the historical/dogmatic/liturgical method of fasting. (Please consult with your spiritual Father before applying any of these rules to your Lenten discipline.)
So, here is a survey of the fasting rules that have applied at various times in Orthodox history.
You can eat something if a NON-fasting ingredient shows up on the list after this:
1. The Shema Rule: ("Our God is One" from Deuteronomy, for the biblically illiterate): You can eat anything that has non fasting ingredients after the first ingredient listed. Since Orthodoxy is a fulfillment of Judaism, and God is "one nature", this is a REALLY handy rule. (Pop Tarts would be fastworthy by this rule, so you get the idea. Hmmm… it just occurred to me, so would a bacon double cheeseburger without the hamburger patties, which is much better than a BLT without the bacon.)
2. The Nicene Constantinapolitan Rule: (Also known as The Incarnational (God with meat) Two Natures Rule): You can eat it if the non-fastworthy ingredient shows up after TWO ingredients.
3. The Trinitarian Rule: After 3 ingredients.
4. The Angelic Ranks Rule 9 (because we aspire to the angelic life): After 9 ingredients.
5. The "Lord Have Mercy Rule" of Matins/Hours: After 12 ingredients. (Pop Tarts are still "IN").
6. The "Lord Have Mercy Rule" of Russian or Monastic Vigil: After 40 ingredients. (Pop Tarts are OUT).
7. The "Lord Have Mercy Rule" of Russian/Monastic Litia/Vigil: After 300 ingredients. (You may eat only organically grown potatoes for Lent, but only if the fertilizer is certified to be free of non-fasting trace ingredients… which is why the Russians allow Vodka during Lent… YEAH!!!).
I hope this helps. Blessed Lent to all.