April 29, 2013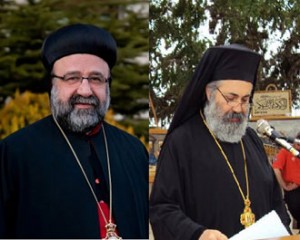 Moscow is concerned about the fate of two Christian bishops abducted in Syria a few days ago.
"We are deeply concerned over the lack of clarity about the fate of two Christian bishops: Bishop Boulos Yazigi of the Greek Orthodox Church and Bishop John Ibrahim of the Assyrian Orthodox Church, abducted by extremists near Aleppo on April 24. Russia is doing all it can to assist their early release and urges all who can influence the abductors to facilitate the settlement," the Russian Foreign Ministry said in a commentary.
"We are seriously concerned about armed opposition groups' increasing attempts to add religious colors to the internal Syrian conflict, "it said.
"The damage the militants of the Jabhat an Nusra terrorist organization did in fighting to the Umayyad Mosque, a UN world heritage monument, is perceived as an alarming sign of the plan to play the of religious intolerance 'card'," the Foreign Ministry said.
The situation in Syria remains "extremely tense and the level of the violence remains high," it said. "We must acknowledge with regret that most of the victims killed in armed clashes in Syria are civilians," the ministry said.
"The only way to achieve cease fire and to end civilians' suffering is to start a pan-Syrian political dialogue based on the well-known Geneva understandings.
Source: Interfax-Religion