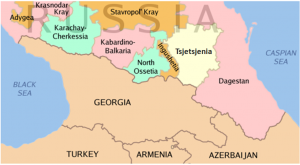 January 7, 2013
MOSCOW – Russian security forces killed three militants suspected of planning attacks on church services during the Russian Orthodox Christmas holiday, authorities said.
Security forces tried to stop a van in the restive North Caucasus province of Kabardino-Balkaria on Sunday but its occupants opened fire and were killed in the ensuing battle, the National Anti-Terrorism Committee said in a statement.
It said that explosives, guns and ammunition were found in the van and that the men who were killed had been planning attacks on churches during services marking Russian Orthodox Christmas, which is on Monday.
The statement gave no evidence to support that suspicion and the account could not be verified.
Deadly exchanges of gunfire between police and suspected militants at road checkpoints are common in Russia's North Caucasus, a string of provinces hit by an Islamist insurgency rooted in two separatist wars in Chechnya.
Kabardino-Balkaria, west of Chechnya, is mostly Muslim but has a sizable Christian minority.
President Vladimir Putin's 13 years in power have been marred by violence in the North Caucasus and attacks by the insurgents elsewhere, and he has called repeatedly for ethnic and religious peace during a new term that started last May.
Putin attended a midnight Russian Orthodox Christmas service early on Monday in Sochi, a Black Sea and Caucasus Mountain resort about 185 miles west of Kabardino-Balkaria that is to host the 2014 Winter Olympics.
Source: NBC News