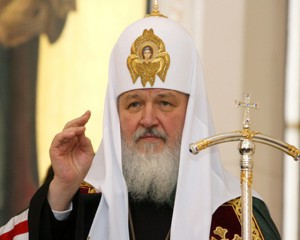 MOSCOW — Russian Orthodox Patriarch Kirill will this week embark on his first visit to the Holy Land since becoming head of the powerful church in 2009, a church official confirmed on Tuesday.
Kirill, who became patriarch in February 2009 after the death of his predecessor Alexy, will visit Christian sites in Israel and the Palestinian territories from November 9-14, Orthodox church spokesman Alexander Volkov told AFP.
Volkov said the visit would include a joint service with the Greek Orthodox Patriarch of Jerusalem Theophilos III as well as meetings with Israeli and Palestinian leaders.
"The visit does not have and cannot have any political aspect," the spokesman said.
Israel's foreign ministry has described the trip as the most important religious visit to the Jewish state since Pope Benedict XVI in 2009 and said Kirill will also visit the Yad Vashem memorial to the Jewish victims of the Holocaust.
Kirill is expected on November 13 to cross the River Jordan for a visit to Jordan where he will meet King Abdullah II, before returning to Moscow the following day.
Source: AFP