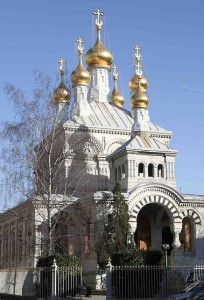 Geneva's Elevation of the Holy Cross Cathedral, which belongs to the Russian Orthodox Church Outside of Russia (ROCOR), has been attacked.
"Unknown persons apparently used a fire extinguisher to spray paint over the southern wall of the building, damaging the walls and stained-glass windows. They also covered the adjacent pavement with numerous inscriptions," a spokesman for the ROCOR local diocese said.
Police are searching for the vandals.
Source: Interfax-religion