Moscow, March 15, Interfax – The Moscow Patriarchate is fundraising for needs of Orthodox believers who suffered from the earthquake in Japan.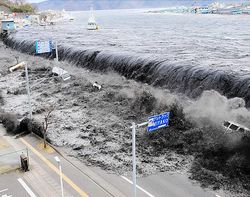 According to him, there is no any accurate and detailed information about damage inflicted to Orthodox churches in Japan.
"However, we know that some churches were badly damaged, one or two are destroyed," the bishop said.
Bishop Panteleimon added that his department fundraises together with the Synodal Department for External Church Relations.
"Means can be transferred to the accounts of the Synodal Department for Charities in rubles, dollars and euros. We will publish detailed information about donated money," he said.
Meanwhile Bishop Seraphim of Sendai (the Japanese Autonomous Church) told about serious consequences of the earthquake in Japan for the country's Orthodox believers.
"On God's mercy the church in Sendai was not seriously damaged and life in the city is being restored. However, churches on the Pacific coast are destroyed and we lost communications with them," the bishop said in his message sent to Patriarch Kirill of Moscow and All Russia on Tuesday.
According to him, the earthquake inflicted "great, hardly describable damage to the eastern coast of North Japan, including the Sendai Diocese". "Help comes to victims from all over the country, but we don't have the full picture of developments as the roads and communications are destroyed," Bishop Seraphim said.
The information from believers is coming and "the number of supposed victims will be significant."
"We, survived priests and parishioners, will fulfill our duties as far as we can," the Bishop assured Patriarch Kirill.
Districts on the territory of the Sendai Diocese greatly suffered from the destructive earthquake and tsunami in the north-east Japan on March 11.
The number of the Japanese who identify themselves with Orthodoxy equals to about 30,000 people.
The Japanese Autonomous Church was founded by St. Nikolay (Kasatkin) who came to Japan on 1861 on the decision of the Holy Synod. He founded and headed the Russian Orthodox mission in Japan in 1870. He translated the Holy Scripture and liturgical books into Japanese and built the Resurrection Cathedral in Tokyo.
The Russian Orthodox Church canonized Archbishop Nikolay in 1970. The Moscow Patriarchate granted autonomy to the Japanese Orthodox Church the same year.