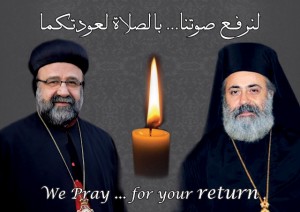 Moscow, October 10, Interfax – The Moscow Patriarchate hopes that the abductors of two Syrian Christian leaders in Aleppo will somehow air their demands and begin negotiations on the clerics' release.
"We have no information on the location of the abducted hierarchs and the conditions in which they are being held. We only have the hope and a prayer that they are alive and in good health and that those who abducted them will establish contact, and then start negotiations," Metropolitan Hilarion of Volokolamsk, head of the Moscow Patriarchate Department for External Church Relations, told journalists in Moscow on Thursday.
Indirect indications that the clerics' are alive are coming from various sources, he said.
"But we cannot verify either of these sources, because there is no direct communication with the abductors, and we don't know who they are," Metropolitan Hilarion said.
The media reported earlier that Syrian opposition fighters kidnapped Syriac Orthodox Archbishop of Aleppo Youhanna Ibrahim and Greek Orthodox Metropolitan Paul (Yazigi) of Aleppo and Iskanderun on April 22. Their driver, also a priest, was killed. The archbishops were dealing with humanitarian problems of the local population in the village of Kfour Dael near the Syrian border with Turkey.