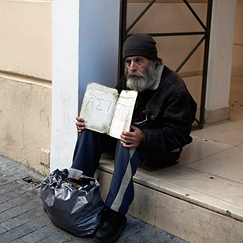 Moscow, July 6, Interfax – The Russian Orthodox Church has transferred 517,628.34 euro to the Greek Orthodox Church. The money was raised at the blessing of Patriarch Kirill so as to help feed the Greeks who lost their jobs and were left with no livelihood, the Moscow Patriarchate said on its website.
A severe economic crisis has continued in Greece in recent years. According to the latest figures from Greece's National Statistical Service, the unemployment rate has reached 22.6%. The indicator is even higher – 50.8% – among young people aged under 24. As part of austerity measures, the Greek government started forgoing its social commitments by closing nursing homes for the elderly and cutting pensions and social benefits, as well as introducing new taxes. For example, an unemployment tax was imposed in July. Now a jobless person is required to pay 300 euro to the state or 620 euro if an unemployed owns a house.
The Greek Church has launched a nationwide campaign to raise funds and food for the needy. Each day the Athens Diocese hands out about 10,000 portions of free food, each portion is worth 0.95 euro. Whereas before the crisis, free food was mainly for immigrants from Africa, Asia and the Middle East, now the share of the indigenous population who are starving has soared to 60%. These are mainly lone pensioners. Food aid has also been organized in other dioceses of the Greek Church.
The Russian Orthodox Church started the fund raising for the starving Greeks on February 21. The campaign was coordinated by the Department for Church Charity and Social Service. The campaign is now over. The raised funds were converted into euros and transferred to the Greek Church's account. Also, a letter has been sent to the Greek Church that the transferred funds are intended for feeding the poor.