August 8, 2013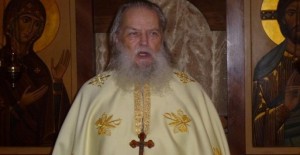 Moscow, August 8, Interfax – The Russian Orthodox Church has called commentators on the recent murder of Father Pavel Adelgeim in Pskov to sobermindedness.
"Today many people try to discuss the public and civil stance of the late father. Unfortunately, this discourse is pushing the very fact of the horrible death of the clergyman into the background, uses it as a pretext for justifying personal views of church life. Such an attitude speaks of the moral defectiveness of part of society in which the murders of clergymen, not only Christian, have become a frequent phenomenon," says a statement of the Synodal Information Department received by Interfax-Religion.
The statement notes that it was not the first victim among clergymen who are increasingly becoming targets of attacks.
"It can be said that people raising their hand at shepherds who receive and console the needy are led by evil force. Abuse of Christ and the Church, unbridled indulgence in shameful passions inevitably lead to hatred and enmity to the servants of God," the statement says.
Whatever the fair punishment of the murderers of clergymen may be it cannot become an alternative "to the vital need of transforming society on the foundations of morality, respect for sanctity, love for one's neighbor," the statement says.
"It is only through common effort that it is possible to protect us from the chaos and arbitrariness which the murders of clergymen," the statement says.
A 27-year-old Moscow resident has been detained on suspicion of murdering the priest. According to witnesses, the man, who attacked Father Pavel, screamed that the devil told him to kill the priest. The suspect stabbed himself in the chest during the arrest and was brought to a hospital. He has already undergone an operation.
Fr. Pavel, who turned 75 on August 1, became a priest during the Soviet era. In 1969 he was arrested for circulating self-published religious literature and in 1970 sentenced to three years in labor camps for "slander of the Soviet system." He lost his right leg in 1971 due to unrest in a labor facility and was released with a disability in 1972. Fr. Pavel became a member of the Pskov Diocese in 1976.
The priest harshly criticized the state of the Russian Orthodox Church and its leaders in recent years.
Source: Interfax-Religion