October 29, 2013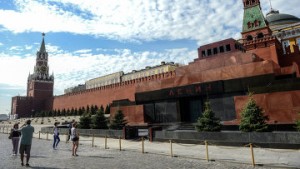 Russian Orthodox Church spokesman Vsevolod Chaplin is asking Russians to consider burying the body of Soviet leader Vladimir Lenin in the name of humanity, complaining that the Mausoleum on Red Square has become a tourist attraction.
Chaplin said that Lenin's admirers should "think about how humane it is that the body is laid out for all to see," RIA Novosti quoted Chaplin as telling journalists on Tuesday.
While he said that "drastic actions," like removing Lenin's body and burying it, might be quite unpopular, "it is necessary to discuss this, considering that a Christian burial does not involve laying out the body of the dead for all to see for many years."
Lenin died on January 21, 1924, but despite his stated wishes his corpse was embalmed and placed in a specially built mausoleum on Moscow's Red Square. Over the years of Soviet rule, crowds of Soviet citizens and foreign tourists and officials visited the shrine.
Proposals that Lenin's mummy should be removed from the heart of Moscow arose immediately after the dissolution of the Soviet Union in 1991, but the issue has been fraught with controversy.
According to an April 2012 poll by the Public Opinion Foundation, more than half of Russians (56 percent) believe that Lenin's body should be buried, while 28 percent are against the burial.
Source: The Moscow News