January 17, 2014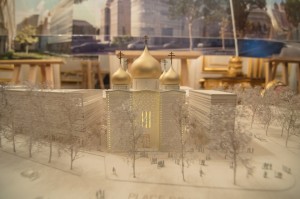 Jan 17 (Reuters) – Russia has begun building what is likely to be one of its most high-profile Orthodox churches abroad on thebanks of the River Seine in Paris, near the Eiffel Tower.
The church, to be built in limestone and glass, topped off by traditional Russian golden domes, reflects the resurgence of Russian Orthodoxy – the world's second-largest Christian church – since the fall of Soviet communism in 1991 and the emergence of new leaders keen to extend its presence at home and abroad.
The grounds will include a cultural centre and a primary school for 150 pupils.
The 100-million-euro project won by French construction group Bouygues finally got off the ground after being sent back to the drawing board several times over the past three years before getting the French authorities' green light last month.
Presenting a model of the building on Friday, Russia's ambassador to France Alexander Orlov estimated there were up to 10,000 Russians in or near Paris and tens of thousands more throughout France but they had only about 20 churches.
"Some 150,000-200,000 Russians emigrated to France after the October Revolution (of 1917) and many of their descendants preserved the language, culture and faith," he said.
He said he hoped the church could be built in two years.
The Russian Church has an estimated 165 million members worldwide, making it by far the largest single member among the loosely linked Orthodox churches and second only to Roman Catholicism's 1.2 billion Catholics in global Christianity.
Patriarch Kirill, head of the Russian church, is a close ally of President Vladimir Putin and his "foreign minister," the polyglot Metropolitan Hilarion, frequently travels the globe visiting Russian Orthodox communities abroad.
In recent years, the Moscow Patriarchate has built or planned churches in countries as diverse as Spain, Malaysia, Thailand and the United Arab Emirates.
In 2007, it reunited with the New York-based Russian Orthodox Church Abroad whose founders had fled Bolshevik rule almost nine decades previously.
It has also retaken possession of older Russian Orthodox churches in Nice on the French Riviera and in Bari, Italy, that passed into local ownership after the Soviet revolution in 1917.
The church's riverside site in Paris, made vacant when the Meteo France weather service moved to larger premises, was a prized plot and media reports said Saudi Arabia had also bid for it.
The Russian state bought it for the Church in a deal that was agreed in 2010 by then presidents Nicolas Sarkozy and Dmitry Medvedev. (Additional reporting by Tom Heneghan; Editing by Susan Fenton)
Source: Reuters