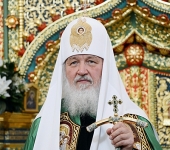 Patriarch of Moscow and All Russia Kirill will visit Japan on September 14-18, 2012. The patriarch's visit to the country of a rising Sun will take place as part of a trip to the Siberia and the Far East. The head of the Russian Orthodox Church will visit the Krasnoyarsk and Primorye metropolis, the press service of the Vladivostok eparchy said on Thursday, ITAR-TASS reports.
 
Patriarch Kirill will visit Japan at the invitation of Metropolitan Daniel of Tokyo and All Japan. The visit will be timed to coincide with the 100th anniversary of the blessed death of St. Nicolas of Japan, equal to the Apostles and enlightener of Japan, to be marked this year. The head of the Russian Orthodox Church gave an interview to representatives of leading Japanese media earlier this week. They included the NHK public radio and television broadcaster, the Kyodo Tsushin news agency and the Yomiuri national newspaper.
 
Patriarch Kirill spoke about his forthcoming visit to Japan and characterized the role of religious factor in the context of development of Russian-Japanese relations.
 
"Religious ties among people have a very big potential. Links at spiritual level touch human hearts. That is why true reconciliation among peoples can take place only with active participation of religion," Patriarch Kirill told Japanese journalists.