BETHLEHEM, Palestinian Territories — Russian Orthodox Patriarch Kirill visited the Church of Nativity in Bethlehem on Saturday and met with Palestinian president Mahmud Abbas, on the second day of his Holy Land trip.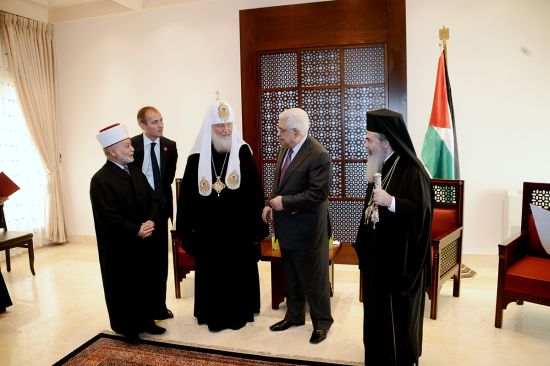 After his visit to the Bethlehem church, built over the site where Christians believe Mary gave birth to Jesus in a stable, Kirill met with the Palestinian president at his office in the West Bank city.
A statement from the president's office cited Abbas as telling Kirill the visit was historical and bore political meaning.
"We feel it comes from the leadership of the Russian people," Abbas said of the visit, saying Moscow supported peace and justice in the Middle East.
The statement also quoted Kirill as saying the visit was special to him, and especially important "since Christ walked here."
"I'm fully confident you are committed to real peace, and your position is welcome because the people living here know the meaning of living in unrest," the Russian patriarch was quoted as saying.
The head of a community of some 150 million Orthodox believers arrived in Jerusalem on Friday for his first visit since becoming head of the powerful church in 2009, and held prayers at the Church of the Holy Sepulchre.
Over the course of his six-day trip, Kirill will also meet Israeli President Shimon Peres and King Abdullah II of Jordan, in a new sign of his importance as a global religious figure.
Israel's foreign ministry called his trip "the most important (religious) visit (to Israel) since that of the Pope Benedict XVI" in 2009.
The 65-year-old patriarch will visit Christian holy sites in northern Israel as well as in Jordan.
Source: AFP