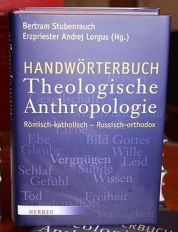 MINSK, 19 November (BelTA) – A presentation of the unique edition "Theological Anthropology. Russian Orthodox/Roman-Catholic Dictionary" took place at the 8th international interdenominational conference, Christian Anthropology versus Present-Day Challenges, in Minsk on 18 November, BelTA has learnt.
The book was published by the foundations Pro Oriente (Austria) and Russian Orthodoxy (Russia) in Moscow in 2013. Over 40 specialists worked on the creation of the book in the span of eight years. According to one of the authors – priest Andrei Lorgus (rector of the Institute of Christian Psychology, Moscow), the dictionary has become a serious step forward in a comparative analysis of the theology of the Roman-Catholic and Russian Orthodox branches. "It is the first step-by-step analysis of the Roman-Catholic and Russian Orthodox teachings," the priest noted. He added: "This is a special dictionary, the first of its kind. This is the first joint content-rich work between the churches." The priest stressed that the book can become a foundation for any comparative scientific analysis in the area.
There are plans to make a digital copy of the book and make it available online. "This is only the beginning. We will continue working in this direction. We will continue analyzing our viewpoints and participate in debates," Andrei Lorgus added.
The international interdenominational conference "Christian Anthropology versus Present-Day Challenges" is completing its work on 19 November. The main organizers of the conference are the Christian Education Center, the Pontifical Council for Promoting Christian Unity, the Institute for Religious Dialogue and Interconfessional Communications at the Synod of the Belarusian Orthodox Church. The forum is held under the auspices and with the participation of the foundations Pro Oriente, Russian Orthodoxy, Kirche in Not (Germany), Urbi et Orbi (Italy) as well as the Belarusian Exarchate of the Russian Orthodox Church, the Archbishopric of Minsk and Mogilev of the Roman-Catholic Church in Belarus and others. Partaking in the conference are Orthodox and Catholic bishops, priests, philosophers and theologians from different countries. Among the guests are also representatives of Protestant, Judaic and Islamic denominations, including Chairman of the Caucasian Muslims Office of Sheikh ul-Islam Allahshukur Pashazade and Archbishop of Baku and Azerbaijan Eparchy Alexander.
Source: Belarusian Telegraph Agency