May 4, 2013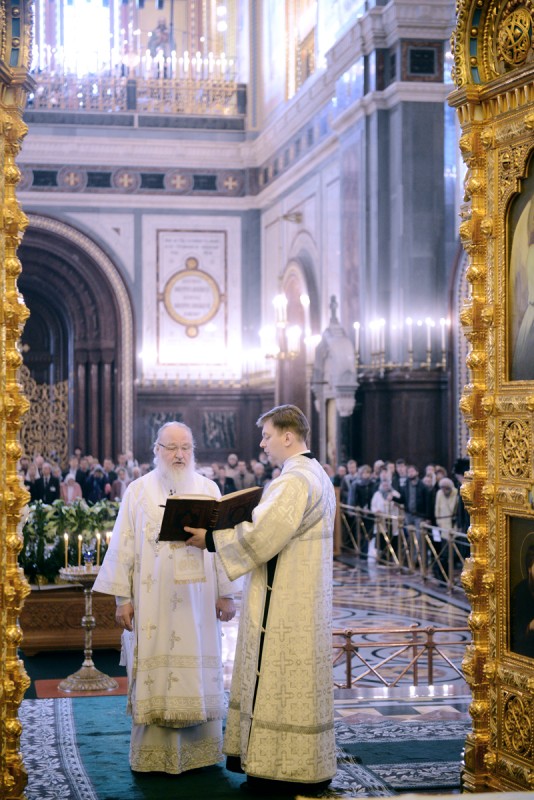 Patriarch Kirill of Moscow and All Russia prayed for peace in the Holy Land on Holy Saturday.
"During a liturgy conducted at the Christ the Savior Cathedral on Holy Saturday, the patriarch said the traditional prayer for peace in Jerusalem, the prayer offered each year at all Russian Orthodox churches ahead of Easter," the patriarch's spokesman, Deacon Alexander Volkov, told Interfax.
Before saying the prayer, the patriarch called on all Orthodox believers "to pray more vehemently," especially on Holy Saturday, when the Holy Fire descends on the Church of the Holy Sepulcher, "for peace in the Holy Land, the place of exclusive spiritual importance for all Christians, the place where people are suffering and blood is being shed."
A delegation of the Foundation of St. Andrew the First-Called, led by the chairman of its Supervisory Board, Vladimir Yakunin, and Bishop Feofilakt of Dmitrov, travelled to Jerusalem on Saturday to bring back the Holy Flame for the patriarch's Easter service. The delegation is expected to arrive at Vnukovo Airport at 10:20 p.m. on Saturday.
The delivery of the Holy Flame to the domain of the Russian Orthodox Church is part of the Foundation's program, titled "Pray for the Peace of Jerusalem," launched in 2003. The prayer for peace in the Holy Land, which the Russian delegation says jointly with the patriarch of Jerusalem, is an important component of this program.
Source: RBTH