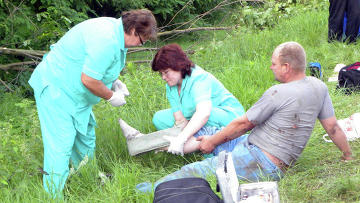 Moscow, July 9, Interfax – 25 pilgrims who were injured in a road accident near Chernihiv, Ukraine, have been taken to hospitals in Moscow and Pskov, the Health Ministry press service reports.
"On Saturday night 14 victims of the road accident in Chernihiv were flown by a plane of the Emergency Situations' Ministry to Moscow where they were received by teams of the center of disaster medicine of the Health Ministry," a newsletter received by Interfax says.
All of them were taken to leading federal medical institutions, it says.
"All of them were offered to be hospitalized at the regional hospital. As a result four were taken to the department of neurosurgery, four – to the trauma section, and three – to thoracic surgery. At the time of hospitalization all of them were in condition of medium gravity," the newsletter says.
Source: Interfax-Religion