July 17, 2013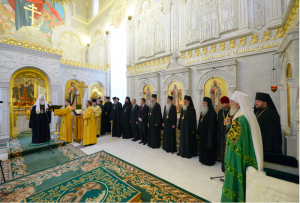 The patriarch called for help of the Russian Orthodox Church and the Russian government in the preservation of Kosovo and Metohija, leveling criticism at the Serbian authorities.
Irinej underlined that Serbia must not renounce Kosovo and Metohija, because that would imply renouncing our history, culture, spirituality and holy sites.
"The current government is under considerable influence of the West. The Church is doing all in its power to bind their consciousness to the powerful Russian history and the Russian Church," the Serbian patriarch said.
"Russia's stance on Kosovo and Metohija is influential. Therefore, I ask you and, through you, the state leadership to help us solve this issue and thus preserve Kosovo and Metohija," he added.
Patriarch Kirill reiterated that the Russian Orthodox Church agrees with the stands of the SPC in terms of Kosovo and Metohija, and he also criticized Serbia's political leadership.
"I regret to say that Serbia's political leaders lack courage to take the same stands. I believe that the political leadership should consider the stands of the SPC and not ignore them, let alone to do that publicly," the Russian Patriarch said at the meeting.
Patriarch Kirill "reacted positively to the request of Patriarch Irinej," Tanjug reported.
"We are offering our unreserved support to the SPC righteous position in terms of Kosovo-Metohija and we will remain in the dialogue with leaders of Russia and other countries in defending the stance that we are sharing with the SPC," the Russian patriarch said.
"In creating of a model for solving the Kosovo and Metohija issue, the SPC would have to be included, and an acceptable model would have to provide firm guarantees for the survival of the Serb community and preservation of Serb holy sites in Kosovo and Metohija," said Kirill.
The Russian Orthodox Church will continue to collect funds for the reconstruction of Serb churches and monasteries in Kosovo, the Russian patriarch said.
Patriarch Irinej on his first official visit to Russia since his appointment. The SPC delegation will visit Russian churches and monasteries and Orthodox holy sites in Ukraine and Belarus during the two-week visit.
The SPC Patriarch and other Patriarchs of autocephalous Orthodox churches will take part in marking the 1025 years of Christianity in Russia.
The Orthodox Patriarchs will be received by the presidents of Russia, Ukraine and Belarus.
Source: B92