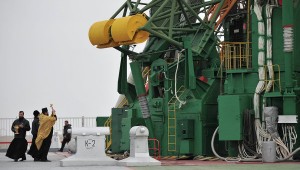 MOSCOW, July 26 (RIA Novosti) – A Russian Orthodox priest has been assigned to an aerospace defense unit stationed at a space center in northern Russia, the Moscow Patriarchate said Friday.
Archpriest Artemy Emke will be responsible for religious work with the unit's personnel as deputy commander on religious issues at the Plesetsk space center, a church representative said.
"Any military unit should have a priest to help believers among soldiers and officers, in line with the Russian Constitution, to follow their religious beliefs, take the sacrament, and participate in the life of the Orthodox Church," said Sergei Privalov, head of the Russian Orthodox Church's Department for Cooperation with the Military, Law Enforcement and the Security Services.
"The work of a priest in the military aims at preventing hazing and suicides, and is intended to cultivate high moral and patriotic standards among the personnel," Privalov added.
He expressed hope that the appointment of 240 priests from four major religions (Orthodox Christianity, Islam, Judaism and Buddhism) as deputy commanders of military units would be completed in the near future.
According to Privalov, 77 priests, including 74 Orthodox, 2 Muslim and one Buddhist have been assigned to military units so far.
In July 2009, after a meeting with the heads of Russia's main faiths, then-President Dmitry Medvedev supported a project to restore full-scale military priesthood, which had existed from the 18th century to the start of the Soviet era.
According to the Russian Defense Ministry, two-thirds of the country's armed forces personnel consider themselves religious. Some 83 percent of them are Orthodox Christians, about 8 percent are Muslims, and 9 percent represent other confessions.
Source: RIA Novosti