April 13, 2013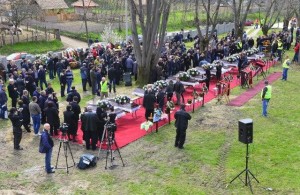 Church bells have rung out in the tiny Serbian village of Velika Ivanca, as hundreds of tearful mourners buried 13 people gunned down in Serbia's worst massacre in two decades.
Mourners carrying flowers and candles and mostly dressed in black queued to pay their respects to the six men, six women and a two-year-old boy killed in Tuesday's rampage.
Their 13 coffins were lined up and covered with wreaths of white flowers, including the tiny casket of the toddler set between those of his parents.
Shell-shocked villagers struggled to come to terms with what Serbian Orthodox Church Archbishop Jovan called a "tragedy that freezes the tongue and narrows the reason."
"This is horrible. There is no excuse for what he has done," said Milovan Kostadinovic, a neighbour of 60-year-old war veteran Ljubisa Bogdanovic who carried out the shooting spree against mostly his family.
The gunman died Thursday in a Belgrade hospital after shooting himself in the head following the bloodbath, leaving police baffled as to a possible motive.
Steva Jelenic, a schoolmate of Bogdanovic's son Branko, who was also killed in the rampage, told AFP: "It is hard for those who died but it is even more difficult for us who were left."
"There is no word of comfort or to explain why this has happened in this peaceful village. Let us pray that such a thing does not happen ever again to anybody," the archbishop said during his church service.
A long slow funeral procession then moved toward the cemetery, with relatives carrying 13 crosses leading the way, followed by a column of cars carrying the coffins with families and friends on foot bringing up the rear.
Throughout the cemetery, situated on a hill above the village, individual prayers and loud sobs rang out among the scattered graves.
Death announcements also littered the shell-shocked village, pasted at bus stops and local stores as well as on lamp posts.
The victims, including the gunman's son and mother, were mostly killed in bed as they slept peacefully.
Bogdanovic's brother Radmilo and twin daughters Slavica and Zorica were among the mourning families and were receiving condolences.
The remote hamlet was deathly silent on Friday, its streets mostly deserted.
In front of a house where five members of the same family were gunned down, including the two-year-old boy, relative Rade Despotovic stood alone in despair.
"They are all gone, all five. This house is closed today," he told AFP.
Some neighbours had initially expressed surprise that Bogdanovic was capable of such violence, but both his wife and brother-in-law have said he had a history of domestic violence.
His wife, Javorka, who was shot twice but survived, on Thursday gave police chilling details of the bloodbath, the Balkan country's worst such shooting in 20 years.
She reportedly told police that Bogdanovic had told her "there was no more life for us," before starting the shooting spree.
The killer's exact motives remain unclear but family members said some of his relatives had undergone psychiatric treatment in the past. Locals said his father committed suicide when he was a child.
Bogdanovic fought as a member of Serb forces during the 1990s war in neighbouring Croatia. After losing his job as a labourer last year, he became a farmer.
Source: NewsComAu