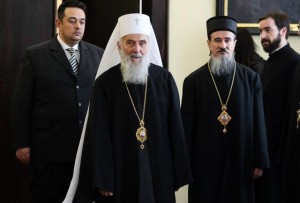 January 4, 2013
BELGRADE — Serbian Patriarch Irinej has said in his Christmas epistle that Serbia needs peace the most.
He also and called on the Serbian people not to forget their language and religion, no matter where they were.
The Serbian Orthodox Church (SPC) patriarch wished a merry Christmas to all believers and said that aside from love, peace and good will were necessary in times of difficult social circumstances.
He also pointed to the difficult position of the Serbian people in Kosovo and problems that members of the Ohrid Archbishopric were facing in Macedonia.
"Christmas is a day of joy for the people of St. Sava, scattered of their own free will and involuntarily across all meridians from Europe to America and Australia. As fathers, we call on you not to forget your Orthodox faith and your language, not to forget churches and graves of your ancestors," Irinej said on Friday.
Speaking of Kosovo Serbs, he said that on the 100th anniversary of liberation of Kosovo in the First Balkan War "faith should be placed in god".
"Mothers, remember and teach your children so they can teach their children that expelled Jewish people waited almost 20 centuries to return to the land of their fathers and that Serbian people waited five centuries for the liberation of old Serbia," Irinej noted.
The patriarch stressed that Kosovo should never be forgotten.
Commenting on the Ohrid Archbishopric, he said that Macedonian authorities still kept Archbishop Jovan in prison and that they did not guarantee freedom of religion to local believers.
"Unfortunately, in this year of anniversary of freedom of Christian preaching of faith our brothers and sisters members of the Ohrid Archbishopric are deprived of this very freedom and their leader is kept incarcerated by those who have not allowed us for several decades to put together the cassock of Christ, torn apart by the hand of the ungodly," he added.
The patriarch said that it seemed that everything was up for sale today, including human dignity and called on all people to show more good will.
"Christmas comes as a balm to our wounds. Only those people who come to peace both with god and people can find peace in their souls and only those people are true peacemakers," Irinej said and added that he was more optimistic and hopeful about 2013.
Source: B92