May 31, 2013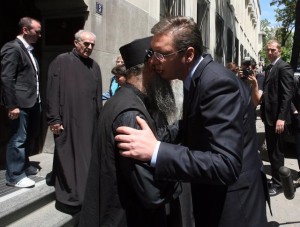 Deputy PM Aleksandar Vučić and Bishop Irinej of Bačka stated on Friday that the Church and the government should work together.
This should happen "for the benefit of the state and in the interest of the citizens," Tanjug has quoted them as saying.
After addressing the Serbian Orthodox Church (SPC) Assembly, Vučić told reporters that he is proud that the members of the Synod wanted to learn about the difficult things and problems that the government is facing.
Vučić said that he spoke about Kosovo and Metohija openly as he always does.
It is important that the SPC Patriarch and members of the Synod want to stand by their people, and we are grateful to them for that, Vučić said.
Bishop Irinej, spokesperson of the SPC, thanked the first deputy prime minister for the sincerity and statesmanlike conduct he displayed on Friday, adding that Vučić has maybe helped all of them to see the problems that the government is facing in a new light.
He said that the Patriarch assured Vučić, and thereby the president of Serbia and the state leadership as well, that they all share responsibility and that they can always count on the support of the Church, particularly in view of improving the position and survival of Serbs in Kosovo and Metohija.
Bishop Irinej said that the government has its methods, while the Church has its own, but the goal is the same – to do what is best and never to recognize either formal or informal option of the so-called state of Kosovo.
Vučić said that the talks have also tabled the Brussels agreement, but that the SPC did not state any specific stance on the issue, adding that nevertheless they took a common stand on the future of the people.
Bishop Irinej also said that there are differences in viewpoints of the Church and the government, but not in terms of crucial stances including not only holy sites and cultural heritage, but also the integrity and future of Serbs in Kosovo and Metohija.
"Many issues are equally understood both from the viewpoint of the Church and the government," Irinej said.
Vučić did not talk in superlatives about the agreement, but he helped us understand the atmosphere and the dimensions of what we are securing for the future and survival of the people, which we did not do earlier and what we would have been done without the agreement, the Bishop of Bačka said.
Source: B92