July 19, 2013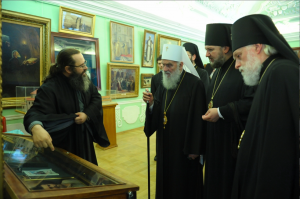 On July 18, 2013, after the Divine Liturgy in the St. Sergius Laura of the Holy Trinity, the delegation of the Serbian Orthodox Church visited Moscow Theological Schools and the Sofrino art production factory.
At the Academy's Chapel of the Protecting Veil, His Holiness Patriarch Irinej and his delegation were welcomed by Archbishop Yevgeny of Vereya, rector of Moscow Theological Schools. Patriarch Irinej, in his response, wished success to the faculty and students in their work.
On behalf of the monastic community, Archbishop Feognost of Sergiev Posad presented the primate of the Serbia with a pectoral icon, an icon of St. Sergius of Radonezh and an album on the St. Sergius Laura of the Trinity.
His Holiness Irinej presented Moscow Theological Schools with an icon of the Most Holy Mother of God and a set of book for the library. He also presented Archbishop Yevgeny with a pectoral icon.
Then the high guests visited the Sofrino art production factory. At the main entrance they were welcomed by Sofrino Director Ye. Parkhaev and his staff.
The Serbian delegation laid a wreath at the monument to Patriarch Pimen and sang 'Eternal Memory' to him.
Patriarch Irinej addressed the Sofrino workers, noting the importance of their work for the adornment of Orthodox churches and monasteries.
Patriarch Irinej saw Sofrino's Chapel of St. Seraphim of Sarov, museum, icon production workshop and marketing department.
Then a solemn dinner was given in the honour of the delegation.
Source: DECR