May 23, 2013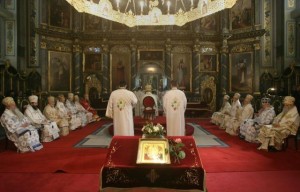 BELGRADE — The Holy Assembly of Bishops of the Serbian Orthodox Church has appealed to all democratic institutions in Serbia and abroad to help free Bishop of Ohrid Jovan.
The religious dignitary "has been subjected to abuse and held in a remand prison in Skopje, Macedonia, since January awaiting a new trial," it has been announced.
The appeal is part of a report on the activities of SPC dioceses and completion of the assembly's decisions between the autumn and spring sessions, Bishop Irinej told a news conference on Wednesday.
"Within the report, we particularly reviewed the troubles the Ohrid Diocese is in, especially because we all, as well as the democratic public of the world, are concerned that Bishop of Ohrid Jovan, who is ill, is subjected to prison abuse," he noted.
Jovan is held in inhuman conditions, receives no medical care and is seriously ill, Irinej remarked.
The SPC called on its members, but those of other churches as well, to pray and provide moral support in an effort to help Jovan, he said.
Bishop Jovan Vranisovski has been arrested six times in Macedonia since 2003 on different charges, including public disorder when he tried to conduct a baptism ceremony in a church the Macedonian Orthodox Church (MPC) sees as its own. He has also been charged with "inciting ethnic hatred and embezzlement of church money."
The bishop has spent a total of almost 18 months in prison, and most recently, he was sentenced in absentia to 2.5 years in prison in Veles on charges of embezzlement.
He was last arrested on December 12, 2011, when entering Macedonia from Greece. He returned to the country to request a retrial, which has not happened yet, with various excuses being given for it.
The MPC is canonically unrecognized, and the SPC considers it schismatic, since it declared autocephaly unilaterally in 1967.
The SPC believes Bishop Jovan is a victim of engineered political trials because he is against the schism, while Amnesty International and Freedom House have said that he is a prisoner of conscience.
Source: B92