March 20, 2013
Serbian Orthodox Church Patriarch Irinej has said that both recognizing Kosovo and partitioning it were "out of the question" as solutions.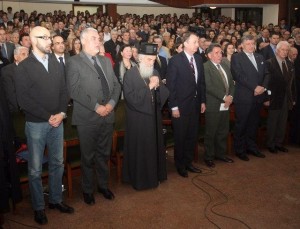 "A recognition is a completely alien concept for us. Any type of recognition is out of the question, just as is any type of partition (of Kosovo)," he told a gathering late on Tuesday at Belgrade University's Faculty of Law.
The event, organized by university students, was dubbed, "Kosovo – the most costly Serbian word".
Irinej also told those gathered that Kosovo was a rich land which had enough room for both Serbs and Albanians.
"The current state of affairs (in Kosovo and Metohija) is a state of occupation. We hope that, just like any other occupation, it will not last forever," the head of the Serbia Church said in his address which was frequently interrupted by enthusiastic applause.
The patriarch noted that during the March 17, 2004 violence – when ethnic Albanians targeted Serbs and Serb property in Kosovo – 150 Serb churches and monasteries and 950 homes were destroyed.
"Kosovo was and must remain ours," Irinej stated, and added that a just solution must be found, "because otherwise Kosovo and Metohija will be a powder keg which will bring nothing good to either Serbs or Albanians".
"We did not lose Kosovo, we are fighting for Kosovo, and we hope to fight successfully. The first condition for preserving Kosovo and Metohija is our unity," the patriarch said.
He stressed that Serb cemeteries were "ploughed" during the March 17 violence, and singled out the desecration of graves as "the height of criminal and uncivilized behavior".
"They wish to erase our traces, for us to leave nothing behind," Irinej stated, noting that "all this was happening in front of, and with the blessing of, the cultured Europe".
Presidential advisor Oliver Antić also took part in the event to say that President Tomislav Nikolić was "guarding deep in his heart the idea of Kosovo's freedom", and that he would "not allow this idea to be extinguished".
Among the guests last night were also member of the Serbian Academy of Sciences and Arts (SANU) Matija Bećković, and former officer of the Yugoslav army (JNA) Veselin Šljivančanin, who was convicted at the Hague Tribunal.
Source: B92.net