April 7, 2013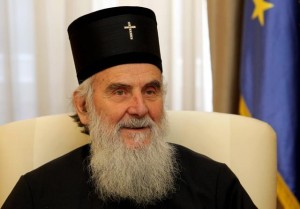 Serbian Patriarch Irinej has called on top officials, on behalf of the Serbian Orthodox Church (SPC), not to betray their election pledge and citizens' trust.
He underscored that they "should not cede, betray or sell Kosovo and Metohija" under any conditions.
"We, the archpriests of the Serbian Orthodox Church, convinced that we represent and voice the stance of all its believers, deem that it is our holy duty to remind you of that pledge, and to make it clear that we, just like a vast majority of our people, expect you to keep it. We are doing that at this precise moment, as we are fully aware of the tragedy of the moment and the burden of responsibility on your shoulders," the patriarch said in a written statement that was forwarded to the media on Saturday.
Underlining that the most important election and immediate post-election pledge of "you in whom the people placed their trust to steer Serbia 's state ship in these turbulent, troublesome times was that you will not cede, betray or sell Kosovo-Metohija, the historic Old Serbia, under any conditions."
In the call addressed to Serbian President Tomislav Nikolić, Prime Minister Ivica Dačić and First Deputy Prime Minister Aleksandar Vučić, Irinej underlined that in "this difficult and critical – maybe even fateful moment, for Serbia and the Serb national feeling, the Church is making the appeal due to a short time-frame and the lies appearing in the media that the Church keeps silent about Kosovo."
"We are addressing you on behalf of the Serbian Orthodox Church (SPC) in a fraternal and brotherly manner, with respect and trust in your Orthodox Christian conscience and your feelings of patriotism and state responsibility," the patriarch's message reads.
He noted that hope never died and that when "the murky clouds disperse, the sun will shine."
Source: B92.net