May 1, 2013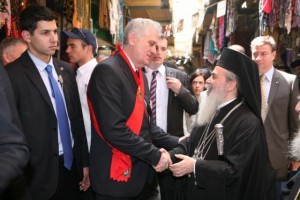 President Tomislav Nikolić met with Patriarch Theophilus III of Jerusalem on Wednesday and thanked him for "everything he has done for the Serbian people."
Theophilus III welcomed the Serbian president, as he put it, both as a political leader and as a pilgrim, adding that he knows that Kosovo is Serbia's Jerusalem – and that he is aware of the suffering the Serbian people are going through.
"I want to thank you for everything you are doing for the Christian Orthodox religion and the Serbian people in particular," Nikolić said in Jerusalem.
"In these days of the last week of the Great Fast, only a sign from God could bring us here, to this holy place," the Serbian president said.
He conveyed the greetings of Patriarch Irinej of the Serbian Orthodox Church to Theophilus III and invited him to come to Serbia and attend the celebration of 1700th anniversary of the Edict of Milan.
The Jerusalem patriarch presented Nikolić with a medal of the Patriarchate of Jerusalem.
"It is a great honor to be given this medal. I see it as a decoration for martyred Serbian people and martyred Serbian Orthodox Church," President Nikolić stressed.
Theophilus III voiced satisfaction with this meeting and pointed to close historical ties between Serbia and the Jerusalem patriarchate.
"You have come to Jerusalem both as a political leader and a pilgrim," Theophilus III said.
"Kosovo won't be erased"
"We will not allow Kosovo to be erased from us," was the message Tomislav Nikolić sent while visiting Jerusalem.
At the same time, the Serbian president said that Serbia "wants an agreement with Kosovo's Albanians."
"Serbia has been exposed to attacks from different religions, our last enemy was communism, but it could not destroy the faith and Serbia's historic memory of St. Sava, who was the starting point of many things for us," he stated, and added, "and in the same way, they cannot erase Kosovo from us."
During his meeting with Patriarch Theophilus, he mentioned the Serb Orthodox churches that were burned down in Kosovo. According to him, ethnic Albanians there are failing in their attempt to annul the traces of the existence of Serbs in the territory "long before their arrival" – "and even if they set on fire all (our) temples, they will not set the foundations on fire."
Nikolić then said that Serbia "asked the international community whether those temples must be burned down because they're Serb, or if they belong to the world and must not be burned down."
"We are saying – it's a part of you, do not be jealous of the fact that Serbia has history," he said, and noted that while there are many other countries who advanced farther than Serbia and are richer, "they remain poor somewhere", and are now, instead of sharing them with us, "attempting to take away Serbia's treasures."
"But that is impossible. We will survive, and remain."
Nikolić then noted that the Serbian Orthodox Church (SPC) is "vulnerable", while on the other hand, Serbia is home to over 30 different ethnicities, and all religions "enjoy the same rights as the SPC."
"Each robe is holy to us. For some nations, an Orthodox robe is a cause for punishment," Nikolić said, to which Patriarch Theophilus reacted by saying that he was in agreement.
The Serbian president also urged Orthodox Christian churches to engage in "good cooperation."
After his two-day visit to Israel Nikolić headed to Palestine. While still in Jerusalem, he commented on Serbia's position on the situation in the troubled region by saying that the country maintained good relations with both sides:
"We find it very hard to see our friends quarreling amongst themselves. We cannot help, but we will also not do anything to make things worse."
Back on the subject of troubles at home, Nikolić noted that "Serbia, too, does not find it easy to reach agreement with (ethnic) Albanians – but it must because we live in the same space."
Source: B92