June 11, 2013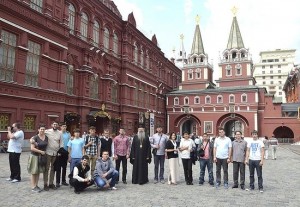 With the blessing of his Holiness Patriarch Kirill of Moscow and all Russia a group of students and teachers from the Serbian Prizren Theological Seminary in Kosovo and Metohija has been visiting Moscow since June 4. The group is headed by Bishop Theodosije of Raska-Prizren, the rector of the seminary and a member of the Holy Synod of the Serbian Orthodox Church. The Serbian guests have come to venerate Relics of the Russian Church and to familiarize themselves with Russian culture and history. Their visit has been organized by the Russian Orthodox Church within the framework of the aid program for the Serbian Church on the territory of Kosovo and Metohija.
The seminary in the city of Prizren renewed its work two years ago after several years of neglect. At present the educational process in the seminary and the restoration works are going on simultaneously. The seminary complex in Prizren needs large-scale repairs as it was burned down by the mob of Albanian pogrom-makers in 2004. In summer 2012, the Russian Orthodox Church transferred to the Prizren Seminary 200,000 euros collected with the blessing of his Holiness Patriarch Kirill of Moscow and all Russia in the Moscow Sretensky Monastery. Thanks to this help, the seminary managed to repair several buildings and to accept students for the next term. At the present time, fundraising is continuing to restore the seminary complex.
For several days of their stay in Russia, the group members have already visited the Churches and museums of the Moscow Kremlin, the Cathedral of Christ the Savior, the Tretyakov gallery, the Holy Trinity-St. Sergius Lavra and the Moscow Theological Academy, the Convent of Protection in Moscow, Optina Monastery, and other holy sites. Everywhere a warm welcome was given to them.
On Sunday, June 9, the choir of the Prizren Seminary sang at the Divine Liturgy in the Sretensky Monastery, the vice-rector of the seminary, Protosingel Andrej (Saic) concelebrated, and Bishop Theodosije of Raska-Prizren prayed in the altar. Serbian guests' visit will continue until June 14.
Source: Pravoslavie.ru