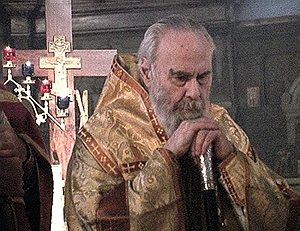 I will speak of a few ways in which the Cross is particularly important to us.
The world was created. Man was made in the image of God. And, even more importantly, he is called to grow into such oneness with his Creator that he becomes, in the words of Peter (the Apostle), a partaker in God's Divine nature. He is endowed with freedom, which is prerequisite for love. He is called to be like God. Now when God finished his work in terms of Creation, everything was put into the hands of man, who, according to the teaching of St. Maxim the Confessor, belongs to two worlds, the material world and the world of the spirit. Man's vocation is to lead all things created to their fullness, their fulfillment, and shape the created, the material world, into a world filled with spiritual reality, so that (in the words of St. Paul), one day God should be in all. That all things may be filled with divinity and all the created world may become the vesture of the divine. Yet man fell away from his vocation.
Our reality can really be summed up in saying that God is prepares us to receive salvation. Salvation is an act of God that can only be achieved through cooperation, through the synergy between God and man. So we are confronted, each and every one of us, with this problem. Are we willing to cooperate? What cost are we prepared to pay to enter into this synergy between God and man? There are several passages in the Gospel that show us there is always a certain line to cross. It is fully our decision to cross or not to cross – in the same way that Old Testament Jews had to cross the Red Sea to enter into the wilderness that would bring them later to the promised land. They had to move, to leave the land of enslavement, cross this decisive frontier, enter into a wilderness of struggle, and one after long trials, once again enter the promised land.
In the Gospel there are many commandments that indicate a variety of ways in which this can be done, but in the Beatitudes there is one phrase: 'Blessed are the peacemakers, for they shall be called the children of God.' It is by becoming peacemakers that we enter into this relationship with God, who is prepared to make peace with us at his own cost.
Another passage in the Gospel shows the former as well — it is the Lord's Prayer, which we constantly repeat – 'Forgive as I forgive.' St Paul puts it in a very intense manner when he says, 'Few are those who would be prepared to die for their friends. What of God, who died for us while we still were his enemies?'
God is confronted with the betrayal of man, to whom the whole creation was handed to lead it towards fulfillment. Man essentially had chosen to be enslave himself and betray God's world and creation. We are partakers in this sin every time when either we ourselves or others with our help create situations of destruction, handing over God's world to the realm of death and evil.
Each of us can reflect on this, because each of us (in one way or another) does it or has done it or may do it. The sin of Adam, the sin of Eve, the sin of Cain, the sin of Peter, the sin of Judas, the cowardice of the apostles, their flight, their lack of understanding, their self-centeredness — all these things we criticize so freely when we read of them in the Gospel. And yet whenever we say in our mind; 'Oh I wish this person did not exist; this person is in my way', whenever we disclose to the power of evil one way or another the holy places in the soul of another person (be it through gossip or other means), whenever we are challenged with regard to Christ and our faith and we essentially say: 'I don't know this person', whenever we try to escape responsibility and the truth, we are partakers in these various sins. Cain, Judas, Peter, the apostles, Adam, Eve are all alive in us in a destructive manner, and we could very well look into things and ask ourselves: 'Where do I stand with regard to them?' And, responding to this total betrayal, God enters this world; the compassion of God, the sacrificial love of God pours into this world through Incarnation. And Incarnation was made possible by the one person who was prepared to receive God — the Mother of God. She is the heir of all the longing of mankind, all the struggle of mankind, all the hunger for holiness, wholeness and fulfillment, of the whole human race. She is the heir also of all sinners who knew how to repent, who could cry, who could be broken-hearted — David, Rahab and so many others who are mentioned in the genealogy of Christ in St Luke's or St Matthew's Gospel.
Where do WE stand? Can we thus pronounce the name of God? In the Old Testament, we are told never to use the name of God in vain, because the name and the person are one. We would not do that with the name of a person whom we love, whom we venerate. We do it so lightly with the name of God. And the name of God pronounced with all the being of the Mother of God, of the Blessed Virgin, was the door of the Incarnation, but then what do we see in the Incarnation?
Think about the tragedy of the Nativity, about the response of people to the coming of the Lord — Herod, the inhabitants of Bethlehem, the soldiers who murdered the children. And what of the Child born there? — a vision of God which no one could have possibly invented – God helpless, God defenseless, God completely surrendered, God totally and ultimately vulnerable. That is what love is. When we think of this Child, helpless, vulnerable, without any human protection and strength and power, who is offered by God as a victim, as helpless and vulnerable and defenseless and frail as a lamb, it is not in vain that John the Baptist says: Here is the Lamb of God, totally frail, fragile, unprotected, depending exclusively on human mercy.
God, in a sense is defenseless and vulnerable – offering Himself, giving Himself, never protecting Himself against anything which we do to Him. What do we do? How do we treat Him?
St Seraphim said to one of his visitors: 'If you pray to God, He will help you, but don't ask Him for trivial things, because you know at what price He acquired power and the right to fulfill your prayer.' Here is the image of this divine helplessness, of the God who renounces power to give us a chance to show mercy and to show love — mercy to God! And how often we trample Him down! How often we attempt to cover His eyes as the soldiers did in the Pretorium and hit Him and say: 'Do you know who has hit you?' or simply attempt to cover His eyes to be free of Him, to live according to our own devices and our own ways!
And the Child grows in his humanity while He is the fullness of God at the same time. He grows in perfect harmony with his own divinity — one person, whole, complete, not a human vessel containing God, but God Incarnate, the divinity pervading all that is human in Him, and helping this humanity to grow to its fullness.
Describing the fall of Adam, a French pastor, Holland de Pury, says, 'The moment Adam turned his back on God he could have just died, he entered the realm of death, because he had no God any more, and God is the only life'.
Patriarch Alexis was asked once what the Church is. He said: 'The Church is the body of Christ crucified for the salvation of the world.' Are we prepared at all for anything that looks like crucifixion'? Again nothing spectacular, simply preferring — and I say 'preferring" because it is a weak word — preferring God's ways, God's will, God's mind, God's attitudes, to the more convenient ones, our own and those of a world that wants to live according to its own devices. Where do we stand?
And so here again we may reflect upon ourselves — on ourselves singly and ourselves collectively. In the parable of sheep and goats, it's clear that judgement is not based on whether these people proclaimed their faith, had the right faith and not the wrong one, but simply whether they were human, compassionate for one another! Where do you stand in terms of compassion, of sympathy, of solidarity with those people who need you in order to survive? It is not hard to turn to God and offer a prayer, which very often sounds like an accusation". 'Why don't you do something about these needs?'. Yet we often do nothing ourselves – nothing to make a difference.
And then there is another aspect looking at the crucifixion. Christ, being nailed upon the cross, says a prayer: 'Father forgive them. They do not know what they are doing'. How often we feel slighted by this! How often we are resentful! And do we ever say: 'Father forgive them. They do not know what they are doing" when someone slights us?
So let us enter into the darkest recesses of our life and soul. Let us walk daringly into the darkness, because, at the heart of it, Christ walks with us, and what seems to be darkness from outside may become light. Just as Moses, obeying the command of God, daringly walked into the cloud of darkness, into a place of terror, but then he was surrounded by the glory of God, by a shining of the divine light. And that is the place — inside this light — where Moses learned the will and the ways of God and could proclaim them through his life and his words.