1. Archpriest Serge Poukh
In 1928 my parents moved from Bulgaria to Luxemburg. I was then two years old. My father spent his entire conscious life as a choir-director and reader, not for nothing bearing the name of Roman the Melodist. I remember how I came to church with my mother and stood "like a candle" to the end of the service. I remember how I began to serve in the altar for Fr Evgenii: I gave him the censer, went out with the candle. I remember my reading and singing on kliros. And I remember 1956.
I decided to become a proper Reader. At that time the rector of the Memorial Church in Brussels was Archbishop John of Shanghai. I revealed my desire to him before the Allnight Vigil. Vladyka beamed and said: "A good intention has come to you. Come to the Liturgy tomorrow and I'll tonsure you a Reader."
After the Vigil I lay down to sleep, but I could not fall asleep. I turned from side to side, but could find no rest. Someone kept me from sleeping. At the time I could not make out who this could be; I found out only the next day. A voice inside me was whispering to me: "Why should you become a Reader? Why should you get tied up with the Church? You'll no longer be able to sleep in on Sundays! You'll have to go to church earlier! You'll have to find and read the Epistle! You'll have to read on kliros, and you could better spent Saturday evenings at the movies or at the theater!" All these thoughts did not leave me all night.
The next day I went to church early in the morning with the intention of getting out of the tonsure. I had only just entered the church when I heard feet stamping from the left side of the altar. I quietly walked up to the doors, opened them, and saw Vladyka with his back towards me. He stamped with his right foot first here, then there and, turning slightly towards me, cried out: "Do you see 'him'? There 'he' is! There's 'his' tail!" And, continuing to stamp: "You what, changed your mind? Don't want to be a Reader?" I flinched all over. How could Vladyka have known my decision? And here I suddenly understood "who" had kept me from sleeping. "Who" set on me with these sinister thoughts. "I will, I will!" – I cried out somehow with a voice not my own.
Vladyka's eyes brightened, as they had done earlier and, turning to me, with an affectionate and approving voice, said: "Look! 'He' has disappeared and won't come back again! Remember this once and for all: never turn away from a good intention!"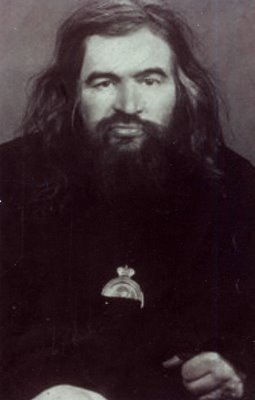 2. Igumen Gury (+1999)
My first meeting with Vladyka John came about in the fall of 1959. Vladyka Averky came from Synod and said to send two deacons to Synod; the bishops will be serving in parishes before the Council and there aren't enough deacons. I went with Fr Pimen; I was assigned to Paterson with Vladyka Savva of Australia. Arriving in the Bronx, Vladyka Nikon called me over and said: "We will send you with Vladyka John to Washington, a monk is better for him." Vladyka Nikon warned me that, upon our return, Vladyka John should serve a moleben [supplicatory service] before the meeting of the Synod and that I should remind Vladyka about this, so that he wouldn't be late, and that he always, whenever he goes anywhere, sits down to write "addresses."
We only sat down to eat at 12:30, the taxi man came, and at 1:00 the train was to leave; I ran to Vladyka in his cell. The door stood a little bit open. Vladyka was sitting on a chair, uncovered one leg, and I noticed that the leg was covered in blood up to the knee, probably from standing for a long time. A short time later I knocked at the door in order not to disturb him. Going to the car, I sat down, but Vladyka went to the post office. A helper, Sofia N., came running up to him: "Vladyka, for God's sake, I'll take you. Go, or you'll be late." We go to the station. Vladyka asked one man, who didn't understand, turned around and left, then asked another one, who shrugged his shoulders and left. Vladyka turned to me and said: "They don't even understand English!" But Vladyka did not hury, he walked as if he were out for a stroll. A girl helped us, took our ticked, and we made it on time for the one o'clock. Vladyka sat down and put his klobuk on the shelf. The veil was hanging out, so I took the klobuk and put the veil in the klobuk, but the cross on the klobuk went out of place. Vladyka stood up, without saying anything, put his finger to his forehead and looked at me. I understood: you see that the cross is out of place? Vladyka began to read a book, then closed his eyes. The American sitting next to me pushes me – he's asleep…
During the Vigil the Reader read one kathisma and stopped, and Vladyka stood silently on the kliros. Archimandrite Nikolai came up to me. What's going on, I say, read the second kathisma. Only then did Vladyka come into the altar, venerate the Holy Table, and was vested on the left kliros, during which he read the Six Psalms without a book. At the Liturgy the choir sang the Cherubic Hymn slowly three times, while Vladyka was pulling pieces of paper out of his pockets for the living and for the reposed.
After the Liturgy we sat in the airplane for nearly an hour due to a problem with the airplane, and then were transferred to another plane, and we arrived late at Synod. Coming out of the car, I asked Vladyka: "Should I take your vestments to your cell?" Vladyka said loudly: "Take my vestments to the altar."
We enter the church. The church is full, all the electric lights are on, the Royal Doors are open, and Vladyka Savva of Australia is standing vested at the Holy Table. To my surprise, Vladyka, rather than going straight into the altar, walked along the long ambo to put his staff into the corner. I immediately entered and said two words: "Vladyka John has arrived." Metropolitan Anastassy, standing at the door, winced and exchanged glances with Vladyka Savva. Vladyka Savva walked away from the Holy Table. He told me: "Give me Vladyka John's vestments." Now, remembering all this, I think of how calmly Vladyka John conducted himself. Not only Americans, but many Russians didn't understand him…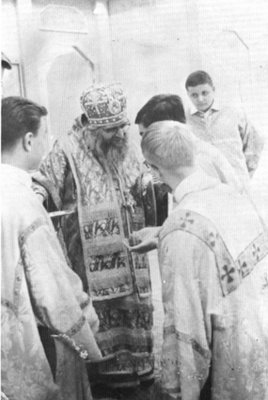 3. Fr Peter Perekrestov
A parishioner of the cathedral, Vera Ignatevna Romanov, related the following incident to me. In the 1960s she approached the cross at the end of the Liturgy, which was held by Archbishop John (Maximovitch). Vladyka John unexpectedly asked her (she did not see that he asked anyone else this): "Did you eat today before the Liturgy?" Vera Ignatevna replied: "Yes." Then Vladyka John moved his hand with the cross away from her and did not allow her to kiss it. Vera Ignatevna was at first in a state of shock from the fact that Vladyka did not allow her to kiss the cross. However, from that time on she never ate anything before the Divine Liturgy, always coming fasting.
4. Archimandrite Ambrose (Pogodin) (+2004)
Vladyka John had the habit of visiting heterodox churches where some grace of Orthodoxy might still be present, namely in the form of holy relics of saints that were glorified before the division of the Churches. Vlayka John expressed the wish to visit Westminster Abbey. Westminster Abbey may once have been a very holy place. It was miraculously saved as a parish church from the general destruction under Henry VIII, and now those sacred objects that one might have expected in an ancient church are no longer there. We went simply to have a look at it as one of the tourist attractions of London. Vladyka went with us. After a certain time, the shortest possible, he left. "Here," he said, "there is no grace." Indeed, there are found the relics of many great persons of England, the great political builders of the country, writers, scholars, but no saints.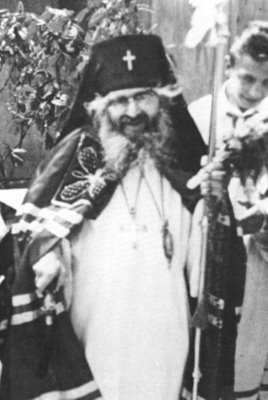 5. Bishop Danilo (Krstic) of Buda (+2002)
A young Serb was a student of theology at the Orthodox Theological Institute in Paris. He was divided in heart: get married or become a monk? He went to Brussels, where Archbishop John was then living, and asked Vladyka: should I become a monk? Vladyka John had lived for a long time in Serbia and understood well the ways and character of young Serbs. He knew that they tend to be stubborn and irascible, and answered the student: no.
This Serb became a monk after all. When this same Serb, already a monk, had the pleasure of meeting Archbishop John in America, Vladyka blessed him with the shining face of a clairvoyant knower of Serbs… Vladyka knew that if he had told this Serb, "Yes, become a monk," that Serb would never have done it…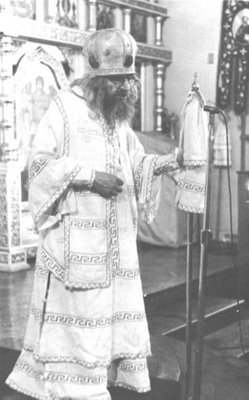 6. Metropolitan Laurus of Eastern America and New York (+2008)
In 1953 the Synod of Bishops visited Holy Trinity Monastery in Jordanville. I was then a hierodeacon. After the festal Liturgy I went into the altar and there came upon St John, who was looking for something. I went up to Vladyka John and asked him: "Can I help you find something?" St John did not respond to my question, and silently continued his search. Then I, thinking that Vladyka John had not heard my question, asked it again. Saint John took me by the hand, led me out of the altar, and said: "In the altar I don't converse."
Source: Ora et Labora
Your might also like:
The Veneration of St. John of Shanghai and San Francisco: Recollections of a Spiritual Son by Bishop Peter of Cleveland
Notes of a Pilgrim on the Glorification of St. John of Shanghai and San Francisco, 1994 by Reader George Skok
BE CAREFUL! WATCH! by Saint John