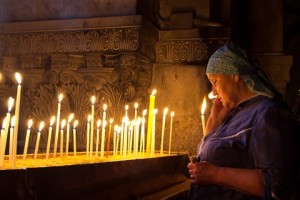 Jerusalem, January 16, Interfax – Some 500,000 Russian pilgrims visited the Holy Land in 2012, Jerusalem Mayor Nir Barkat said.
The number of tourists and pilgrims visiting the region in 2012 reached a record number, exceeding 3 million, Barkat said during a visit to the Russian Spiritual Mission in Jerusalem, the Russian Spiritual Mission reported on its website.
The mayor congratulated members of the mission on Christmas and invited Archimandrite Isidor (Minayev) to take part in the international conference Pilgrim Cities of the World, which will take place in Jerusalem in spring.
Patriarch of Moscow and All Russia visited the Holy Land in November. During his visit to Israel, Palestine, and Jordan, he said that the presence of the Russian church is increasing in the region.
"When we talk about an increase in the presence, we speak not so much about an increase in the physical presence, but we believe that it is important that as many our pilgrims as possible visit the Holy Land," Patriarch Kirill said.
Firstly, it gives people a spiritual charge and strengthens their faith and, secondly, "an increase in the number of pilgrims is an increase in Russia's connections with the countries where holy places are located," he said.
"We can now see what renovation work is being done in the churches of the Jerusalem Patriarchate. Of course, all these things are connected with the appearance of our pilgrims because it also increases the physical capabilities of the Jerusalem Church. And we are very happy about that because the holy places needed serious renovation for many years," the Patriarch said.
Source: Interfax-Religon