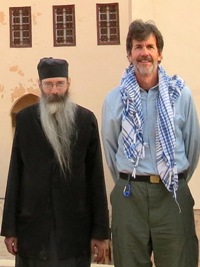 Father Justin, the librarian of St. Catherine's Monastery, and Michael B. Toth, the Sinai Palimpsest Project Program Manager, will speak at the U.S. National Archives and Records Administration on November 19, 2012 about a fascinating project they are managing: resurrecting texts from documents that are 1,000 to 2,000 years old. The talk will be broadcast on the World Wide Web so you can listen to it from your home or office without traveling to Washington, D.C.
Father Justin and Michael B. Toth will discuss how advanced spectral imaging is revealing ancient texts in the remote library of a Greek Orthodox monastery in Egypt's Sinai desert. The monastery has a very important collection of manuscripts, the earliest dating from the fourth century. Because writing materials were sometimes scarce, the library contains many palimpsests — manuscripts where the original text was erased, and the valuable parchment used a second time. The faint original texts can often be recovered through the use of spectral imaging.
Scientists, scholars, and technical experts are working in close collaboration with Archbishop Damianos and the monks to spectrally image significant manuscripts from the monastery's rich collection of palimpsests. The system is similar to the one used by the Library of Congress Preservation Division for the past five years to study America's Top Treasures and other manuscripts. This five year program is conducted under the auspices of the nonprofit Early Manuscripts Electronic Library (EMEL), and sponsored by the UK-based Arcadia Foundation.
Speakers:
Fr. Justin Sinaites is the Librarian of the Sacred and Imperial Monastery of the God-Trodden Mount of Sinai. The Library contains some 3,300 manuscripts, 8,000 early printed books and an important archive containing letters, account books, charters, and other documents.
Michael B. Toth, president of R.B. Toth Associates, brings over 25 years of experience with systems integration, program management and strategic planning to support museums and libraries as they capitalize on advances in information and digital imaging technology.
Seats are limited at this event. Even the webcast will be restricted by bandwidth considerations to a limited number of people. You need to make reservations NOW. More information may be found at http://www.loc.gov/preservation/outreach/tops/ancient_text/ancient_text.html.