July 15, 2013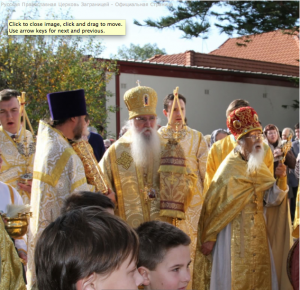 Below is an article originally published in the periodical Edineniye [Unification] on the 60th-anniversary celebrations of SS Peter and Paul Cathedral in Sydney, Australia. Sixty years ago, the temple was consecrated, whose bell tower can be seen from far away on Vernon Street in Strathfield. On July 12, 2013, the feast day of Holy Chief Apostles Peter and Paul was celebrated here.
Since 1953, this cathedral is the center of Russian Orthodoxy in the city of Sydney, and for all of Australia as well. In April of that year, Edineniye wrote "The bell tower, still surrounded by scaffolding, still smells of plaster and paint, but the singing of church music is already heard, while a host of clergymen, headed by Bishop Athanasius,a is performing divine services at this new church in Strathfield." In May, a cross was set atop the bell tower, and on December 27, 1953, Archbishop Feodor consecrated the new church building.
Over sixty years, a great deal has changed inside the cathedral, and on the surrounding territory. A parish hall and a school were built beside it, the cathedral was decorated, many new icons were introduced. But much has remained since those days, too, and the main thing is that same Russian spirit. As always, Sundays and holidays draw Russians from all over Sydney. After divine services, while parents discuss current events with old friends in their native language, their children and grandchildren play in the large churchyard. On feast days, in addition to the cathedral's regular worshipers, guests come from all corners of the city, and even other Australian cities, and often from other parts of the world.
Over 400 people gathered on a sunny day in 2013 to mark the feast day of SS Peter and Paul Cathedral. Over 20 priests, monks and deacons participated in celebrating Divine Liturgy. The First Hierarch of the Russian Orthodox Church Outside of Russia, His Eminence Metropolitan Hilarion, asked His Grace Bishop George of Mayfield (US) to participate in this anniversary celebration. He led services on that day, joined by Protopriest George Lapardin, Fr Semen Nekipelov, Protodeacon Boris Evstigneev and Protodeacon Alexander Kotliaroff. They were joined by clerics from other Orthodox churches of Sydney, including Fr Michael Li, Fr Nikita Chemodakov, Fr Boris Ignatievsky, Fr Alexander Korzhenevsky, Fr Daniel Metlenko, Fr James Carles, Fr Christopher Vakhabov, Fr Alexander Filchakov and many others. The cathedral's choir, under the direction of Nicholas Kulikov, sang in what seemed a clear, new and even differently, somehow.
After Liturgy, headed by the gold-vested clergymen, everyone went on a procession of the cross, and it seemed that agolden wave, shimmering in the sun, was surrounding the church. Then, diocesan decrees of blessing signed by Vladyka Hilarion were distributed to Senior Sister Ekaterina Feodorovna Pasternatskaya and Warden George Nikolaevich Kulikov, honoring them for having invested many years of work at the cathedral.
After the service, the priests and approximately 400 worshipers of all ages shared a trapeza luncheon prepared by the cathedral's sisterhood, headed by its newly-elected Senior Sister, Agripina Nikitenko.
The Editors of Edineniye spoke to those present at the services how long their lives had been bound to SS Peter and Paul Cathedral.
Sergei Shornikov; parishioners since the cathedral's founding:
– It brought us great joy when we heard that they are building a big new church in Strathfield. Until then we had attended services in a temporary church set up in a YMCA on Oxford Street near Hyde Park. Every Sunday, in an outfitted gymnasium, an Orthodox priest would conduct services. Everything we needed was brought there for each service, and taken away after they ended. When they bought the parcel of land in Strathfield and began construction, it was a milestone for the Russian colony. When the building was finished, we were a bit disappointed at first, since it not look like a typical Russian church. The building committee was unsure as to whether they could pay for the work, and the form of the church was selected so that if we failed, the building could be sold. But our disappointment soon vanished, as Russian youth quickly began appearing. We came not just to attend services but to meet other young people. So my history with the cathedral has lasted for sixty years now.
Peter Tatarinov; parishioner since 1961:
 – We were present when they laid the cornerstone: we still have the photo. But we only became parishioners after we got married in 1961. There were problems during a period of conflict, and fortunately we survived this episode and it was simply relegated to history. We were always devoted to the cathedral and remain so to this day.
Ekaterina Fedoseeva; parishioner for five years:
– As soon as we arrived in Australia five years ago, we came to the cathedral and received our first blessing from Fr George. Although we live pretty far from here, I really wanted to come to the cathedral on its feast day today.
 Alexei Ivachev; parishioner since 1957:
– I found myself at the cathedral for the first time after our arrival in 1957. I had the impression that a great many people came to these services, including young people. There were also scouts nearby at the time. An old wooden house stood where the school now stands, where there was a library and where the priest lived.
Adrian Lapardin; fifty-year parishioner:
– I arrived in 1962 and came right to the cathedral, and have been a loyal parishioner ever since. We were young, we wanted to discuss all sorts of interesting projects with the young people, and we often went outside to discuss them so as not to disturb divine services. The cathedral was the center of our community, where we could share news. My wife and I were married in the cathedral, and baptized our children here, and had funeral services for many members of our family.
Nikita Serebryakov; first arrived in 1957:
– On the first Sunday, in April 1957, after my parents and I arrived in Sydney, we came to our first service in SS Peter and Paul Cathedral. We lived in the Stenmore area then, which isn't far, and we regularly attended services. At the time, Vladyka Savva was the rector here. I remember later about how they lifted the bells into the tower. I would meet many of my friends here—thirty by of my classmates came to Sydney from Harbin, China. Finding ourselves in a new land, we were drawn together. There was a Russian club here, and we would meet every month for dancing, organized by a lady we called Aunt Katya. They offered lemonade then, and a youth band under Victor Sergy would play. Thanks to this, many of us found spouses within our Russian society. We then started families, moved out of town, and we don't meet as often anymore. I have photos of my first year in Sydney, as a 17-year-old, standing at the cathedral's doors with my parents. Now I want to take the same photo with my grandson.
Klavdia Dmitrieva; a cathedral-goer for 59 years:
– We arrived in 1954. The walls were already up, but work was still ongoing. My husband participated, he installed a reliquary, and even received an award for his work. Since then I have been a singer here and I am a dues-paying parishioner. Many Russians settled here in those days, and it was convenient for our community. There was also St Vladimir Church in Sydney, a small one, so this one in Strathfield became very important for us.
Ekaterina Pasternatskaya; at the cathedral since 1959:
– We began to attend the cathedral in 1959. The children would serve in the altar. In 1986, when our children grew up, I joined the sisterhood. In 2005, Vladyka appointed me Senior Sister, which I remained until this year. Today for the first time in many years I can sit quietly at the table and not worry if everything was ready yet, like before, wondering whether everyone would like the dishes we prepared. Although I remain a member of the sisterhood, I will only help to the extent I am able.
Innokenty Suvorov; parishioner since 1957:
– We came in 1957 and immediately began attending the cathedral. My godfather brought me here: he sang in the choir and invited me, too. I've been singing ever since. What has changed over that time? A great day; they used to play volleyball on the church grounds. People have changed, there are other choristers, we have new young people now, some of them graduated from our parish school, so they are used to Russian Orthodox life. This is great. Unfortunately, the middle-aged generation, the children of many of my friends, have been absorbed from Russianness into the Australian way of life. They chose an easier way of life, there is no need to observe Lent, you can lie in bed on Sundays instead of hurrying to church. Now there are a lot of young children who must be enrolled in Orthodox schools so that we don't lose this generation, so that they continue the work we are doing.
We interview Nikolai Lebedev, choir director:
– Nikolai, you have a splendid choir, one of the best in Sydney, but today you have outdone yourselves. Many noticed how beautifully the choir sang, how unified they sounded.
– These were mainly the same voices; we have about 30 singers. Today, we selected more peaceful, serene musical pieces. We try to learn new compositions, to make it more interesting for our singers.
-We heard a beautiful soloist; was that Masha Okuneva?
–  Yes, she sang the Byzantine chant "It is Meet." She does not sing in our church frequently.
– Has your choir been growing in recent years?
– I would say it's stayed the same. Unfortunately, we have little time for rehearsals, people are getting older, sometimes they fall ill, while the younger people are busy with their jobs. We end up catching up on Sundays, when there are divine services, which is also good practice.
– We thank you and all your singers, who bring so much joy with their voices, and established a truly festive mood today.
In conclusion, we congratulated the Senior Priest, Protopriest George Lapardin, on the parish feast day, and asked him how he sees the 60th anniversary of the cathedral—can it still be considered young, is it mature or in its waning years?
– Of course, compared with the Kremlin cathedrals in Moscow, which exist for a half a millennium, our cathedral is young, but it is still a significant date for churches in the diaspora. The third generation is now growing up here in our cathedral. This bears witness to our active church life. We live emigre lifestyles, our parishioners all have jobs. They support the cathedral   and take responsibility for it. They feel that they are the masters of this church, which stimulates them to try to help it grow, help the number of parishioners grow. One might say that they are proud of their work at the cathedral. That is why we are constantly making repairs and renovations.
Thanks to our leader, the humble Metropolitan Hilarion, who never claims complete control, one has a chance here to make a proposal, to show one's talents and energy. New icons have appeared in church, we are preparing for frescoes to be painted. We ordered new doors, and bought new chairs for the parish hall. All of this is thanks to our administration and our parishioners.
– Today you have many guests, and Vladyka George is here from America.
– It is nice to see so many people praying in church and sharing our feast day, including priests from other Orthodox parishes. It is a special joy for us to receive Bishop George of Mayfield, who is a Vicar Bishop of our Rector and Archpastor, Metropolitan Hilarion. We sense his great support. Thank God, if the church is still filled with parishioners after 60 years, it means things are going well. The cathedral, you could say, has matured, and many events are still approaching, for the cathedral and for the entire Russian community of Sydney.
Source: ROCOR