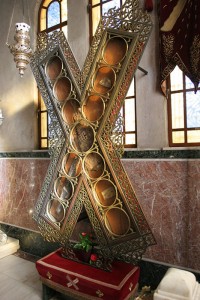 Moscow, July 3, Interfax – With the Russian patriarch and Archbishop Ieronymos of Athens and All Greece's blessing the Foundation of St. Andrew the First Called will start organizing the delivery of the cross of the Apostle St. Andrew the First Called to Russia, Ukraine and Belarus, the domain of the Russian Orthodox Church.
"The cross on which the Apostle was crucified is kept at an Orthodox church in Patras, Greece, in Peloponnese. It is a holy relic for the Christian world. Its delivery into the domain of the Russian Orthodox Church is timed to coincide with the 1025th anniversary of the Christianization of Russia," the Foundation's spokesman Alexander Gatilin told Interfax.
The cross will be in St. Petersburg from July 11 to 15, in Moscow from July 16 to 26, in Kiev from July 26 to 28 and in Minsk from July 29 to August 2.
The delivery of St. Andrews' Cross to St. Petersburg, Moscow, Kiev and Minsk is to signify that the three nations' spiritual life has the same root – the blessing St. Andrew gave and the christening in Kiev in 988," he said.
Source: Interfax-Religion