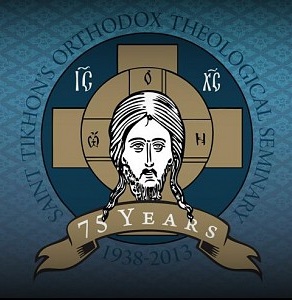 October 10, 2013
SOUTH CANAAN, PA [OCA]
Saint Tikhon's Seminary here is marking its 75th Anniversary today—October 10, 2013—with a day of prayer and fellowship that opens with the celebration of a Service of Thanksgiving and Panikhida for departed administration members, faculty, and alumni at the Monastery Church of Saint Tikhon of Zadonsk. His Beatitude, Metropolitan Tikhon, will preside at the anniversary celebration.
Saint Tikhon's joins Saint Vladimir's Seminary, Yonkers, NY, which also will be celebrating its 75th Anniversary in November [see related story] and Saint Herman's Seminary, Kodiak, AK, which recently celebrated its 40th Anniversary, in honoring their past in anticipation of their ongoing ministries in the critical field of theological education and formation.
An anniversary reception and Grand Banquet will be held this evening at Fiorelli Catering, 1501 Main Street, Peckville, PA.
Throughout the day, the faithful will have the opportunity to tour the newly renovated seminary building, meet the current students, visit the Monastery Museum and Repository, and pray before the monastery's shrines.
A photo gallery can be viewed on the OCA web site and Facebook page.
Additional information will be posted as it is received.