December 29, 2012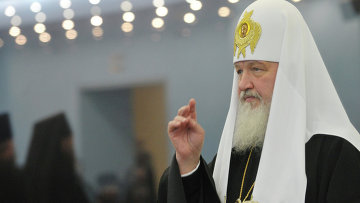 Head of Russian Orthodox Church Patriarch Kirill agreed that the state would allocate land for burying orphans, he announced in his report on Friday.
The half a hectare of space will be allocated at Alabushevskoye Cemetery, one of Moscow's new burial sites.
The patriarch said at the moment all the details were being formalized.
The patriarch announced it on the same day Russian President Vladimir Putin signed a law banning US citizens from adopting Russian orphans. As an alternative, the country plans to subsidize adoptive parents from Russia.
Media war against the Church
Kirill also said that "in today's information environment any news associated with the Church is seen as if through a magnifying glass."
"Any unworthy act of a person connected to the Church causes a storm of negative articles," he said, adding that "a number of media uses false, deliberately false information."
"What is going on in media space now regarding the Church can be qualified as an information war. So we as members of the Church are called on to be an example for the non-believers and not strong followers."
Choose a car wisely
With this in mind, he called on clerics to not violate traffic rules and practice "wise self-restraint" when choosing a car, RIA Novosti reported.
"Today, the level of production of some cars is such that there is a minimal difference in comfort between more and less prestigious cars," Kirill said. "So let us think about using such vehicles that cannot become a cause to discredit the clergy."
The patriarch stressed that he used state cars and could not use any others.
This year there have been several scandals when clergy in expensive cars caused accidents on the road, some of them were drunk behind the wheel.
Source: The Moscow News