May 29, 2013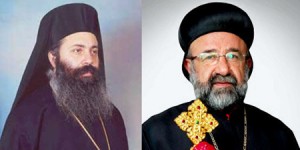 Gathered in Lebanon, the participants in an international and ecumenical conference on Christian presence in the Middle East have issued a statement in support of the two abducted Metropolitans from Aleppo, His Eminence Boulos (Yazigi), from the Greek Orthodox Church of Antioch, and His Eminence Mor Youhanna Gregorios (Ibrahim) from the Syriac Orthodox Church of Antioch.
The statement reads: "The kidnapping of the two Metropolitans occurred one month ago, and their churches, their relatives, their sisters and brothers in the large ecumenical family are still without any news about their situation. We are distressed and saddened by this outrageous act that violates our common humanity, and we reiterate our firm condemnation of it. We call for the immediate release our two beloved brothers, and the release of all those who are captured in Syria.
"The two Metropolitans are well known by all of us gathered here and by many churches and religious leaders around the world. They are both committed to the ecumenical movement and have developed meaningful interreligious relations and understanding which derives from their lives in communities where Christians and Muslims have lived together peacefully for centuries. Their pastoral, social and public work is appreciated by their flocks and by all their fellow citizens in Aleppo and in Syria. We have missed their presence, their wisdom and spiritual example in our conference.
"We join our voices to those of His Beatitude Patriarch John X Yazigi, Patriarch of the Greek Orthodox Church of Antioch and His Beatitude Mar Ignatius Zakka I Iwas, Patriarch of the Syriac Orthodox Church of Antioch, in their joint communiqué issued on 23 April 2013, and address the kidnappers telling them that "those whom they kidnapped are messengers of peace in this world. Their religious, social and national work witnesses for them".
"Knowing well the two Metropolitans, we are sure that they will forgive their aggressors in accordance with the Christian values they have always promoted. We pray and hope that their speedy release will strengthen the interreligious relations and trust that have been built up over centuries in a region that has been and still is an example of diversity and living together in mutual respect.
"We pray God for all those who have been kidnapped, and for our two Metropolitans to bring them back to the service of His beloved Church, to us, to their people, and to all those who know and love them. We also pray God that He will enlighten the minds and hearts of their kidnappers so that they rediscover their true humanity," it concludes.
The conference took place from 21 – 25 May 2013, at the Notre-Dame du Mont Monastery. Its participants included Patriarchs, Heads of Churches, and representatives of every Christian church in the Middle East along with Christian churches and organisations from 34 countries.
Source: Ekklesia