August 1, 2013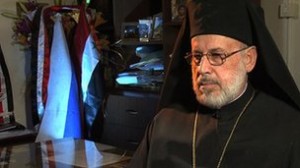 Archbishop Louka El-Khouri, patriarchal auxiliary of the Syrian Orthodox church, believes that the Syrian regime will not fall and President Bashar Assad will stay in power.
Khouri adds that Assad will run in the promised 2014 presidential elections and will win, undoubtedly because the people support him overwhelmingly.
The Archbishop, who visited Dearborn this week, told The Arab American News that Assad, who is Alawite, has the support of Syrians from all backgrounds, including at least 60 percent of Sunnis, the sect of most rebel fighters, who are trying to overthrow the government.
Khouri stated that nobody supports the armed opposition anymore, except people with "no brain," who only have the mentality of murder and revenge.
"What happened is not a peaceful revolution. It is a barbaric rebellion of murder and destruction," he added. "Whoever wants reform does not pick up arms to kill his brothers and chop up their bodies. This is not an Arab Spring; not even a winter; it is destructive storms and a criminal conspiracy against Syria."
Khouri says that those who love their country would more likely work towards its stability and prosperity, rather than destroy Syria, which is standing with the resistance against the Israeli enemy to liberate Palestine, like the rebels have.
He added that the solution lies on the dialogue table.
"In the beginning was the word," he quoted the bible.
"The armed opposition has nothing to talk about," he said. "They work for a foreign agenda and refuse the negotiations. They take money and hire mercenaries to kill people and bring murderers from all over the world."
The archbishop, who is second in command in the Syrian Orthodox church, said Western nations should urge the rebels to engage in dialogue with the regime, unless they want Al Qaeda militants, who are fighting against Assad, to be killed by the Syrian army to get rid of them.
Khouri was born in 1945 in Qatana, a village in the Damascus countryside.  He served in churches in Palestine and Iraq, before settling at a Church in Damascus. He headed the first mixed prayer between Muslims and Christians for peace and stability in Syria and in the region in the Umayyad mosque in Damascus in 2012.
Khouri has questioned the rebels' demands for democracy, as they receive support from Qatar, Saudi Arabia and other Arab Gulf nations.
"They want freedom and democracy from Saudi Arabia, where everything is banned and women cannot drive a car, or go to the beach. This is their democracy," he said.
He said the Syrian crisis proved that Arab Gulf countries follow Israeli commands.
Khouri slammed rebel fighters, who follow the fatwas (religious commands) of fundamentalist and extremist scholars.
"We never heard these sheikhs declare fatwa for reform, or peace," he said. "They declare fatwas for murdering Syrians. This is not Islam. They have killed priests and sheikhs and bombed mosques, as they have killed Mohamad Said Al-Bouti."
Bouti was a Sunni scholar, supportive of Assad. He was assassinated by an explosion in his mosque in March. Khouri prayed on Bouti's body at his funeral.
"They are criminals," Khouri said, referring to the rebels. "They use drugs to behead people and eat hearts."
On the situation of Christians in Syria, the archbishop said Christians are suffering from the war, like all Syrians.
"Archbishops and priests have been kidnapped, tortured and murdered," he added. "We are standing along with Muslims and all sects for our country."
Khouri accused Christian opposition leaders George Sabra and Michel Kilo of not being real Christians.
Kilo is a leftist intellectual and a lifelong prominent dissenter, and Sabra headed the opposition's Syrian National Coalition for a few months last year.
"They have nothing to do with Christians. They are communists; sons of communists. They never visited a church," the archbishop said of Sabra and Kilo. "They have sold themselves to the devil."
Responding to reports by human rights organizations, such as Human Rights Watch, about abuses committed by the Syrian Army, Khouri said: "Let these organizations come and teach us what human rights are? Are human rights respected in their country? We taught people freedom and peace. These organizations are paid to spread destruction in Syria."
Asked if minorities in the Middle East, including Syrian Christians, support authoritarian regimes for protection, Khouri said Christians in Syria are not a minority.
"It's not about numbers," he added. "We are the founders of this country. We welcomed Islam and coexisted as siblings. Churches host events that Muslim leaders and citizens attend."
The archbishop refused to let Robert Ford, the U.S. ambassador to Damascus, into his church in the summer of 2011.
"I told his bodyguard: 'Tell the ambassador to get out of here.' I was going to kick him out personally, but the bodyguard beat me to the car and told him to leave," he explained.
Khouri praised the Syrian army and congratulated its soldiers on the Army Day, a Syrian National holiday on August 1.
He urged Syrians in the diaspora to "stand with the homeland."
"Whoever doesn't have a homeland doesn't have honor. Persistence is the source of victory. Everybody will kneel in front of us, because we are right. Syria is a country of love and peace," he concluded.
By Sakher Naser and Ali Harb
Source: The Arab American News