Source: www.aroy.org
God desires to be a part of our everyday lives. He longs to show His love for us in special ways. If we will take the time, He will surprise us with special gifts of His love throughout our day.
Recently, this happened to a friend of mine. She took the time to find God. No, she didn't just get up early in the morning and go outside to sit under a large, budding oak tree. She didn't just stop and smell the fresh spring breeze and listen to the birds singing their songs of praise to God. She didn't meditate all day while the warmth of the sun caressed her smiling face. She began her day as she always does — she spent time in the Word and then allowed God to show up in any part of her day that He chose. She went to work, and there were special surprises for her.
The Scripture she read that morning was from the Song of Solomon. It was a precious Scripture that she took with her in her heart. As she entered the building where she works, she saw something on the table in the lobby. She decided that she would pick up the small object and throw it away. She took pride in the area where she works and simply wanted to keep things looking nice. But to her surprise, it was a small flower. Now you say, "What's the big deal?" Well, here is the Scripture that God gave her that morning:
"For the winter is past, and the rain is over and gone. The flowers are springing up, and the time of singing birds has come, even the cooing of turtledoves." (Song of Solomon 2:11,12)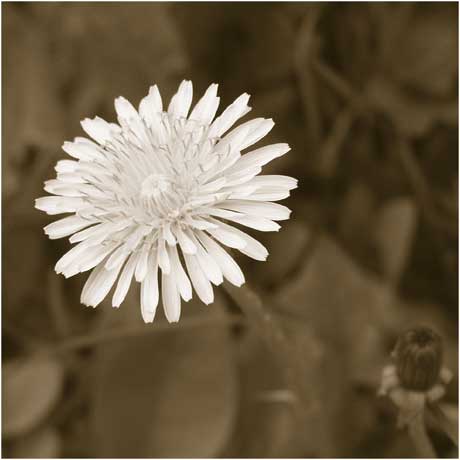 It meant so much to her. She giggled and said, "Thank you, Papa" (as she always did when speaking to her heavenly Father) and kept right on walking. God was speaking to her heart about His great love for her. He was sharing with her that just as it was beginning to be spring in the natural realm, in the spiritual realm she was starting into her own springtime. And as we all know, flowers are a sign of spring.
God had allowed someone to leave a special, little flower on that table so that as she entered the building she would discover it and feel His great love for her. Her heart was greatly touched by this incident, and I felt so blessed to be a part of it. I had been right behind her when she walked into the building that morning.
As I thought of how special that moment seemed to her (not knowing about the Scripture God had given her), I knew something very wonderful was happening. As I stepped into the elevator, God spoke to my heart and said, "She took the time to find ME." She had taken the time to find God. She was continuing the day as we all have to do, working and taking care of family, yet this moment did not escape her.
"Oh, that we might know the LORD! Let us press on to know him! Then he will respond to us as surely as the arrival of dawn or the coming of rains in early spring." (Hosea 6:3)
Needless to say, I took the rest of the day to look for God. I made sure I gave eye contact to everyone I met and shared a kind word and a smile. I wanted to find God in my day, and I wanted to be God's love to someone who might need to see Him in a tangible way.
We can find God. We can feel His love in wonderful ways. We don't need to think that He is millions of miles away and too busy to care about our special needs each day. Take time to find God.
* from the eMail Forum of Holy Trinity Church, Los Angeles CA