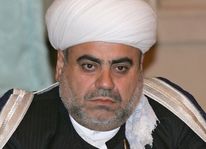 Moscow, December 31, Interfax – The head of the Muslim Board of the Caucasus, Allahshukur Pasha-zadeh, has extended his condolences following the deadly terrorist attacks in Russia's southern city of Volgograd.
"It is absolutely obvious that the terrorist attacks were meant to incite ethnic and religious hatred between people. Islam, as a religion of peace and creation, resolutely condemns the murder of innocent people. The Holy Quran teaches that killing an innocent person unjustly is like killing all the people," Pashazedeh said in a message to Russian President Vladimir Putin. A copy of the message is available to Interfax-Religion.
The Islamic leader also expressed his support for the Russian authorities in their "uncompromising fight against terrorism."
In a message to Russian Prime Minister Dmitry Medvedev, Pasha-zadeh said that terrorists "cannot even be called humans, and they deserve no mercy."
He also forwarded a message to Patriarch Kirill of Moscow and All Russia, saying that ill-wishers seek to disrupt social stability in Russia and provoke followers of traditional religions to seek revenge and engage in a conflict.
"Today our thoughts are with the families of those killed and injured. The mosques and churches of Azerbaijan are praying for the souls of the killed innocent people and are wishing a speedy recovery to those injured as a result of the terrorist attacks," he said.
Source: Interfax-religion