Moscow, July 17, 2013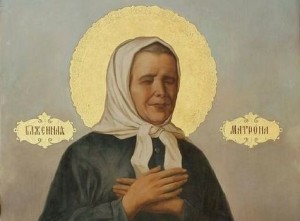 The Russian Orthodox Church has introduced one more feast-day of St Matrona of Moscow—the day of the uncovering of her relics on March 8, reported the head of the Moscow Patriarchate's Information Department Vladimir Legoida at the briefing on Tuesday in Moscow, resuming the meeting of the Holy Synod results, reportsRia Novosti.
"The members of the Holy Synod have decided to introduce a new date of commemoration of St. Matrona of Moscow…, hundreds and thousands of people queue to venerate her Relics in the Convent every day. Due to such a veneration of her relics and the importance of people's love for this Saint, the Holy Synod has decided to introduce an additional feast-day—the day of uncovering of her relics. This is on March 8 according to the new calendar," said Legoida.
The Synod has also approved for the Church-wide use the text of the service to St. John of Shanghai that had already been approved by Dioceses of the Russian Orthodox Church Outside of Russia. St. John is an outstanding Church Father of the 20th century who served in China, Europe and the USA and has been especially venerated by the Orthodox Christians living abroad.
The meeting of the Holy Synod took place on Tuesday under the chairmanship of Patriarch Kirill. It was the last meeting of the spring-summer session this year. At the meeting in March, the Holy Synod established the joint Church and public organizing committee on preparation for the celebration of the 1025th anniversary of Baptism of Russia, and addressed the authorities of Russia, the Ukraine and Belarus with the request for cooperation with this committee. The celebration of the Baptism of Russia on July 28 in accordance with the religious tradition is related to the feast-day of Holy Prince Vladimir, Equal-to-the-Apostles, who baptized Russia.
Source: Pravoslavie.ru