August 1, 2013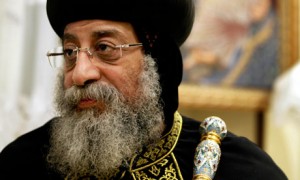 On July 27, while pro- and anti-Morsi supporters were rioting across Egypt, the Al Jazeera website featured a photo of Coptic Pope Tawadros II on its front page. This by itself was a historic moment; the Coptic Christians of Egypt have mostly been invisible in news about their country. At the same time, the Pope's picture raised the question of how the Copts are dealing with the latest political transition. To the Copts the answer is clear: they are Egyptians and part and parcel of whatever befalls their country.
After the 2011 revolution, whenever Copts did make the front page it seemed to be bad news. We regularly heard about attacks on churches, priests being killed, and Copts taken to court on accusations of blasphemy. We stood speechless on Sunday, April 7, 2013, when an angry mob of Muslims threw firebombs and rocks at the Coptic cathedral in Cairo. This was the first time in modern history that the spiritual, cultural, and social center of the Coptic Orthodox Church had been openly attacked. We also were in shock a few days later when video clips on YouTube showed the Egyptian police standing by and watching.
Clearly, there are many reasons for the Copts to resent Egypt for what has been done to them, yet their leaders unfailingly urge them to support their country. When young Egyptians started the Tamarod or Rebellion movement and called for June 30 to be a day of protest against Islamist President Morsi and his unpopular policies, Pope Tawadros tweeted: "Egypt needs every Egyptian today! We must think, discuss, and express our desire for our nation together without violence, enmity or bloodshed."
The Morsi regime had little to offer to the Coptic community, so when a few days later the army forced Morsi to step down, Pope Tawadros wholeheartedly supported the new interim government of General Abdel Fattah al-Sissi. Yet, it had only been one year since interim pope Anba Pachomius had congratulated the newly elected Morsi and called his election "a comfort to all Egyptians." In return, the President had promised to maintain close contacts with the Coptic community.
Soon after his election as Pope on November 18, 2012, when it became clear to Tawadros and all the Copts that they were not even at the bottom of the president's agenda, the Pope started to share his criticism openly in the press. The Copts felt sidelined, ignored, and neglected under a government that did not even pretend to defend their religious rights. Tawadros' critical stance seemed a natural reaction, and it was easy to forget that it required a great deal of courage for a Coptic pope to stand up against the ruler. The reality is that during most of Egypt's history, Copts have had little choice but to accept whoever was in charge. This is the case now and has been since Arabs replaced the Romans as colonizers in 641 CE. Apart from guarding the faith, part of a Coptic Pope's job description has historically been to serve as the point of contact between his community and the Muslim authority. At the same time he is expected to stay above politics.
For Coptic Church leaders there is only one way to react when the political waters get choppy: insist that Coptic Christians are an unalienable part of Egypt and stress their unflagging patriotism. Pope Cyril V (ruled 1874-1927) became famous for his fervent backing of all revolts against the British colonizers although, in theory, the fact that they were Christians could have provided protection for the Copts. When President Nasser nationalized private property during the 1960s, wealthy Copts — with the rest of Egypt — lost most of their possessions; still, Pope Cyril VI (1959-1971) praised Nasser for appropriating lands so that they could be used to build up the nation.
Disagreeing with a ruler can have grave consequences. Tawadros' predecessor Pope Shenouda III (1971-2012) spent 1,213 days under house arrest in a remote monastery after standing up to President Sadat. Not surprisingly, his first message upon release in 1985 expressed unequivocal support of the new president, Mubarak. So when Pope Tawadros started to express his discontent with the way President Morsi dealt with the Copts, he was a very brave man indeed. He also took his clues from the democratic spirit that had risen among Egyptians, who — as became clear in the counter-revolution — wanted to have a say about the direction in which Egypt was going. President Morsi and the Muslim Brotherhood seemed to miss that clue as they were too busy pushing the country into a new type of autocracy.
When push comes to shove, sentiments of fervent nationalism are what binds all Egyptians. Witnessing the protests in Cairo, scholar of Religion Sarah al-Tantawi blogged on July 27th about what disturbed Egyptians most: that the Brotherhood did not really care about Egypt, and looked across its borders to other like-minded Muslim groups instead of focusing on the wellbeing of their own country. It was even rumored that the Brotherhood was prepared "to give parts of Sinai to militants from Hamas." In short, they lacked a sense of true Egyptianness.
If anything, Pope Tawadros' tweets are filled with a deep sense of Egyptianness. On the 2nd of July he tweeted his support for the millions of Egyptians protesting against Muhamad Morsi's regime, especially thanking the youth "for their great sacrifice."
In reaction to General Al-Sissi's call to the Egyptian people to come out into the streets on July 26 and support the interim government's goal to fight terrorism, the Pope tweeted to his flock that "The national responsibility of the Coptic Church of Egypt demands us all to support the measures that protect our country and achieve our freedom without violence or recklessness. Long live Egypt, safe and secure."
On his wildly popular political satire show, "Hona al-Qahira" (This is Cairo), host Ibrahim Eissa declared on July 28th that the Copts were more patriotic than the Brotherhood; "being called infidels, their churches burnt and their children killed, they never sought the help of any foreign power."
In the face of violence Copts seldom retaliated. After many followers of the Muslim Brotherhood were killed in street violence on July 26 and 27, Pope Tawadros underscored this notion in his tweet that "The life of every Egyptian is precious; bloodshed by their own unacceptable. We pray for the dead and wounded. Lord have mercy on Your people."
After millions of Egyptians had hit the street to support the interim government and by extension the army, they were very upset with the way this movement of the people was represented in the Western press. "They made it look as if Egypt was divided," said Coptic researcher Magda Kamel, who lives on Tahrir Square and witnessed the excitement of the masses up close during the 26th. Being a Copt she had been pleasantly surprised to hear church bells ring at the same time as the Islamic call for prayer sounded. "We are not divided, the Brotherhood made it look as if their numbers were bigger by manipulating the media."
Among others, members of the Brotherhood who were camping out in Nasr City on the north side of Cairo, had waved banners in English which was seen as a strategy to appeal for help to the West and other Muslim countries. This use of a language that was not Egyptian had made many Egyptians realize that the Copts had never turned to a foreign country and asked "come and save us." This new awareness suddenly begged the question: "who is the real Egyptian now?"
Source: Huffington Post