Translated by Ekaterina Lebed
Edited by Maureen E.
The longer we live within the Church, the better we understand that spiritual questions continue to arise. They also keep on increasing day by day. And the process does not depend on our spiritual or social education. These questions grow like snowballs – the further they travel the more unpredictable and serious they become. Our ability and eagerness to change ourselves and become true Christians depend on our ability and eagerness to face these difficulties.
It is always hard and confusing to make the first steps, especially when you have realized that God exists, and this means something to you. That is to say, you don't simply accept the fact, but also decide to change your life since you simply cannot keep on living the way you lived before. And there are lots of things to be changed. But unfortunately the understanding of how to do that does not come at once. It happens because of ongoing experiences.
For every new Christian the most important problem is the lack of correspondence between his or her look and the image he or she has created in his or her mind, the one that has to be achieved. This is one of the biggest problems for those people who consider themselves believers. Well, we actually live in the world where clothes count. And the lack of good sense does not let us overcome the fact. Suffice it to say that not only ardent atheists but also a huge part of 'the church society' suffer from this disease. Many of us consider the fight against the outer aspect of a human being the most important thing. But we forget that appearances are deceptive. Of course we should not think that this aspect means nothing. But when we make our first steps to God it should not be regarded as the one of great importance. We have to wait for a while till everything finds its place in our soul, mind and life. And it becomes clear that the Church is not the right place to demonstrate your earrings and tattoo. We resemble a new sportsman learning the rules of the game over time. But if we pay attention only to this outer side we run the danger of making it the key point of our spiritual life.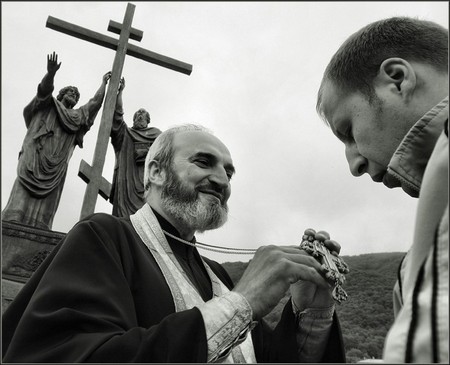 Tactfulness is always important. But in such delicate sphere as spiritual life its importance increases several fold, especially when we consider ourselves experts in this question and give advice both to those who ask for it and simply out of our inner need to share our knowledge. The greater part of all mistakes is made during this time. When a person makes his first steps in church it is of great importance for him to feel a friendly elbow, not only pushing, but also supporting. In the Ancient Church everything was clear – a person who wanted to be baptized was brought to church by 'a sponsor'. This 'sponsor' witnessed his eagerness to become a true Christian. And then after long process of being a catechumen and christening this 'sponsor' kept on giving a helping hand to a new Christian on his way to God. Unfortunately times have changed and now we can learn about the catechumanate only in books on the Ancient Church History and the notion 'sponsor' has acquired a totally different, material meaning. But it does not mean that the problems of churching have disappeared. They still exist and it has become totally unclear which way to settle them.
On the contrary for a person who has already felt himself a Christian everything is absolutely clear. He knows and understands that one should behave this, not that way. And whoever is trying to oppose this opinion or just discuss the matter with a brother in Christ becomes a target to pin a label on. And the victims of such know-alls are those who are trying to understand the difficult and often contradictory church world. A sincere but inexperienced person begins to believe that the thoughts of this or that Christian or even a priest is the truth said by God.
If you do not react quickly to this delusion you run the danger not only of getting lost in the spiritual maze but also of breaking away from the Orthodox Church. But how do we understand the fact that one priest nearly curses the women who dared to enter a church without a headscarf and in pants while the other one does not see a tragedy in that? How do we explain the fact that one priest nearly anathematizes the modern culture and the other one merely puts the facts of modern culture under scrutiny? What shall we do when one says one thing, the other one says another thing? And no matter how strange it sounds there is an answer to all these questions. You should start thinking on your own. The period when we wait for the ready answers is surely the one we all come through. But when we start not just waiting for the ready answers, but looking for the truth we lay the foundation (not without mistakes though) of the main thing for every Christian – for holiness. And the holiness is acquired only through labor. The saints are those who can independently follow the path about which Christ spoke (John 14:6) And if we want to follow then we have to start learning on our own. Antitheses always exist in the Church. On the one hand we have to trust its experience, on the other hand we have to learn how to recognize on our own the real experience of Church as opposed to its imitation. And only those who make efforts will gain the experience. And we can make only our own efforts and God will help and show us which way we shall behave.
At times it seems to a new Christian that he loves God but God does not love him. But it is a false statement which occurs only because of our inability to separate the wheat from the chaff and to understand what God's Providence is and what is only a human mind. And this understanding does not come at once. This understanding has to be won during all our life. The main principle of a Christian life is that God "wants that all people are saved and come to a knowledge of the truth" (1Tim.2:4). The only thing we can do is respond to God's call and start laboring on our own.