May 15, 2013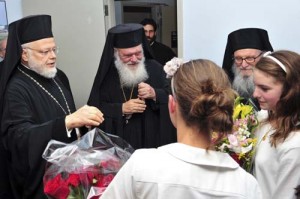 His Beatitude Archbishop Ieronymos II of Athens and All Greece arrived today, shortly before 8 p.m. at Logan International Airport, beginning a visit to the Greek Orthodox Archdiocese of America on the occasion of the conferral upon him of an Honorary Doctorate Degree by Holy Cross Greek Orthodox School of Theology. The ceremony will take place during the School's 2013 Commencement, Saturday May 18.
Archbishop Demetrios of America and Metropolitan Methodios of Boston were the first to welcome His Beatitude as he first stepped off the plane. They proceeded to a private airport room for a more formal welcome. Archbishop Ieronymos greeted everyone saying Christos Anesti, Christ is Risen! as he entered the room and was presented with flowers by three young girls from area parishes.
"It is a first welcome of love, honor and love for you, Your Beatitude," said Archbishop Demetrios as he presented the visiting hierarch to those who had filled the room.
Archbishop Ieronymos in his reply to the warm welcome, said: "I would like to thank you from the bottom of my heart by proclaiming again to you Christos Anesti! Christ is Risen! I would like to assure you that as we arrive today we are filled with joy and gratification and we firmly believe that when we leave our hearts will be even more content and replete with joy. Christ is Risen!"
Archbishop Demetrios presented the members of His Beatitude's entourage which consists of His Eminence Metropolitan of Messinia Chrysostomos, His Grace Bishop Gavriel of Diavleia, Rev. Protopresbyter Adamantios Avgoustidis, Rev. Protopresbyter Stefanos Avramidis, Rev. Deacon Epiphanios Arvanitis and Mr. Demetrios Karanasos.
Among those present at the welcome were the Consul General of Greece in Boston Ifigeneia Kanaras; Rev. Fr. Nicholas Triantafillou, President of Hellenic College Holy Cross School of Theology; Dr. Thomas Lelon, Vice-Chair of the School's Board of Trustees; Rev. Dr. Thomas FitzGerald, Dean of Holy Cross; Rev. Fr. Theodore Barbas, Chancellor of the Metropolis of Boston; many members of the clergy and laity of the area, and students from Holy Cross, who also chanted the feme of the visiting Hierarch.
Tomorrow, Thursday, May 16, 2013, Archbishop Ieronymos will visit the Museum of Fine Arts of Boston and the location of the Boston Marathon terrorist attack, which took place a month ago. In the evening, Metropolitan Methodios will host a dinner in honor of the Archbishop of Athens and All Greece.
Photos from the visit will be posted daily at the Archdiocese gallery.

Source: GOARCH