July 11, 2013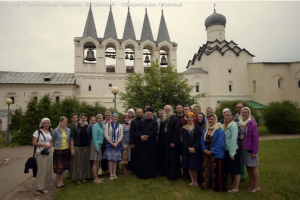 The III International Youth Camp "Tikhvin-2013: Touch Holiness" is now offering the opportunity to adhere to spiritual values and work in a monastery. Orthodox youth from St Petersburg, Moscow, Kursk, Siberia, the United States and Canada are helping restore the ancient Russian convent of the 16 th century—the Tikhvin Vvedensky Monastery, and participate in spiritual life.
The program was organized by the Tikhvin Diocesan Youth Department and is operating with the blessing of His Grace Bishop Mstislav of Tikhvin and Lodeynopol. Participating in the camp are also clergymen and young people from the Russian Orthodox Church Outside of Russia.
The camp offers participation in joint labor, educational lectures, musical and creative performances and sporting events. A forum with lectures of the life of Russian communities abroad and contemporary Russian language will be offered. There will also be excursions to Alexandro-Svirsky, Vvedeno-Oyatsky, Pokrovo-Tervenichesky, Antonievo-Dymsky monasteries and a skete in the town of Senno.
Source: ROCOR