A Sermon Delivered After Vespers on Forgiveness Sunday
In the name of the Father, and of the Son, and of the Holy Spirit.
My beloved fathers, brothers, and sisters, we have just heard a prayer offered by the Holy Church to our Lord and Savior, that He might strengthen us during the forthcoming Great Lent.
Time flows irrepressibly, like a runaway river, constantly placing man in new situations. We recognize that we are powerless over time. It seems that we only just celebrated the Nativity of Christ, the Theophany, and the Meeting of the Lord. Now here we are on the threshold of Great Lent.
Our conscious tells us that the time we have been granted by the Lord ought to be filled worthily, proper to the dignity of a human being as the image of God.
The very fact that we are now present in church and have the opportunity to enter Great Lent is a great mercy of God to us, because there are some who are no longer with us, whose lives have been cut short; they now ask our prayers. We have no power over time. All we can do is thank God for granting us this time and for being patient with us.
We are approaching the fast. We did not reach it immediately: the Holy Church, in its care for us, gradually prepared us for this struggle over the course of many weeks, placing before our mind's eye various vivid situations and images from the Gospel, thus inviting us to compare ourselves with the people about whom we have heard.
One of them was the blind Bartimaeus who, sitting by the roadside, could only hear about the Lord, but was unable to see Him with his earthly eyes. An enormous crowd of people surrounded the Lord at that time. This unfortunate blind man demonstrated that he had spiritual vision, that he had that which those near Christ did not have. He began to cry out: Jesus, Thou Son of David, have mercy on me. The Lord heard him and healed him (Mark 10:46-52)
However, the people surrounding the Lord compelled Bartimaeus to be silent. In so doing, they demonstrated that they were spiritually blind. Let each of us ask himself: "Whom do we resemble? Do we believe in God's great power, which can deliver us from spiritual blindness? Or do we fill the church, surrounding the Lord and Savior, but without believing in His omnipotence?"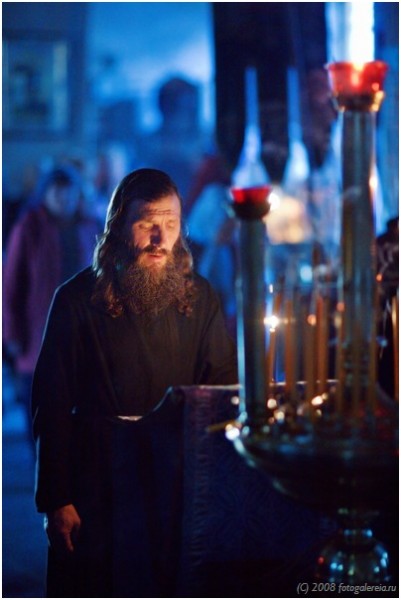 On the following Sunday, the Church reminded us of the Gospel story about the tax collector Zacchaeus, a sinful man who did not believe in God. He heard there was a Savior healing many illnesses and that He was being followed by multitudes, but that people surrounded the Savior so closely that He could not be seen.
Let us consider that perhaps we, too, are obstructing view of the Savior; and that other people cannot see the Lord behind our backs, behind our sins.
Zacchaeus, so that he might only catch sight of the Savior, climbed a tree. He did not believe in Him; it was curiosity alone that drove him to do this. But this was enough for the Lord to notice Zacchaeus and to tell him that now salvation had come to his house. We know that Zacchaeus repented and received divine grace because he received the Savior Himself in his home and was inducted into the Kingdom of God. But the people again condemned Christ for visiting Zacchaeus, saying that the Lord had entered the house of a sinner.
Here you are presented with God's justice and human justice, which are constantly in opposition to one another.
Have a look around. Perhaps standing next to you is Zacchaeus himself who has, so to speak, stepped outside himself. It was extremely difficult for him to enter the church, but he did this in order to catch sight of Christ. Try, therefore, not to block Christ from these people.
Why does the Church recall those images? To soften our souls, that we might enter the fast, Great Lent, with humility and recognition of our unworthiness.
Yes, as the Holy Church says today, a pleasing time has begun. One must have knowledge of this time and thank God that the Lord has given it.
Lent is truly a unique time. It is a time of spiritual struggles. Our Orthodox forefathers awaited the days of Great Lent impatiently, and when it arrived they congratulated each other with the feast.
Today let everyone ask himself: is the approaching fast pleasant to us? Alas, often we hear in our hearts: "Here's this fast again, and this will be forbidden, and that will be forbidden." Woe to us if we have such thoughts in our heart, for this means that we do not love the Lord. The Lord does not require sacrifice from us. He says: I will have mercy, and not sacrifice (Matthew 9:13). Are we ready to render this mercy?
What, in general, must we do for the fast to be beloved and desirable?
First of all, one must remember that, for a Christian, the fast is not an end in and of itself, but only a means; it is but a means of preparing ourselves for the great feast of the Bright Resurrection of Christ.
This joy of Christ's Resurrection should accompany us throughout our lives; it should also fill the days of the fast. While fasting, we should remember why we are fasting.
Why do we repent, why do we cleanse our hearts? In order worthily to meet this great feast, in order worthily to approach the Chalice of Christ and receive our Lord's Body and Blood.
The Lord will help all of us if only we ourselves strive for Him. We need only take this first penitential step, striving to fulfill the Divine Commandments to the best of our abilities.
Yes, it was not a slip of the tongue to say: "to the best of our abilities." Because everyone's ability is different. One should not demand from everyone an identically strict keeping of the fast. This is because some people have received from the Lord not only physical health, but also spiritual health. Others are weak. This morning we heard remarkable words during the reading of the Epistle. The Apostle said: Him that is weak in the faith receive ye, but not to doubtful disputations (Romans 14:1).
This is very important! After all, faith is also a gift of God. One person has strong faith, and can by faith bear a large cross, and successfully bear it. But another person has faith that is weak and sways like a reed. The Lord gives him a cross in accordance with his faith, a smaller cross. The Lord, however, will accept each person regardless of which cross he bore – so long as he bore his cross with a humbled heart, seeking the Lord's peace and love in his heart.
Peace and Love! These are the qualities of soul by which the Lord will judge us. Do we have peace and love in our hearts? Love one another; as I have loved you, that ye also love one another. By this shall all men know that ye are My disciples, if ye have love one to another (John 13:34-35).
Peace and love! Regretfully, we have to admit that, although we frequently attend church – fulfilling many rites, kneeling prayers, and hours-long vigils – we often do not have love in our hearts. In this way we resemble the Pharisees, who were sure of their salvation but repudiated by God.
What ought we to do, so that peace and love might descend into our hearts? We need to pray to the Lord, that He would enlighten us with His light, that we would see our sins hanging over us like rocks, blocking our hearts and preventing God's grace from entering. So, what ought to be done so that Peace and Love would descend into our hearts? We must tearfully ask forgiveness of the Lord, for it is only then that God's grace will touch our hearts. It is for this very reason that we have come to church today, to perform this rite of forgiveness.
First of all, me must ask forgiveness of our Savior.
But the Lord told us that there is one altogether simple condition for receiving His forgiveness. Today we listened to the Gospel reading during Liturgy, in which it was said that the condition for the Lord forgiving our sins is our forgiveness of our neighbors' sins.
It would all seem so simple! Someone comes up to you and asks forgiveness, and all you have to do is say: "I forgive." But on the other hand, this is very difficult, because this "I forgive" must come from the depths of the heart; it must be more than just words.
Forgiving a sinful person is very difficult. And we are all sinners. If we say, "I forgive," this means that we are prepared to answer for our neighbor's sins, to die for his sins. For the consequences of sin is death.
We know well that forgiving our neighbor does not deliver him from his sins, for only the Lord can deliver him from his sins. But our forgiveness of our neighbors' sins opens the doors of God's mercy to us, which allows the Lord to forgive us.
Our neighbor, of course, is a sinner. And we know him well, and know his spiritual sores: he is lazy, and proud, and embittered, and we even feel that he is incorrigible. And yet we must say to him: "I forgive you."
Why? Because we ourselves are just the same. Forgiving him, we are following the Lord's commandments. For the Lord and Savior Himself showed an example of all-forgiveness and obedience to God's will. He forgave all of us, and suffered for us all on the Cross.
So, if we forgive our neighbor from our hearts, God's mercy will descend upon us. Therefore, tonight we must first of all thank the Lord that He has gavin us the opportunity to gather here and ask forgiveness of one another. Some people no longer have this opportunity. This means that the Lord is merciful to us. He still awaits our repentance.
Asking forgiveness of one another, we are making an indispensable, important step towards the realization of the mystery of salvation, partaking of God's great mercy.
Therefore I ask forgiveness of all of you, for I know my many sins, for I am weak. Forgive me for Christ's sake, if I have offended you in anything, for all my sins, committed in deed, word, and thought.
May the Lord, through His grace, forgive and have mercy on us all! Amen.
Bishop Sergey (Sokolov) of Novosibirsk and Berdsk (1951-2000)
Translated by Ludmila Koemets
Edited by Hierodeacon Samuel (Nedelsky)