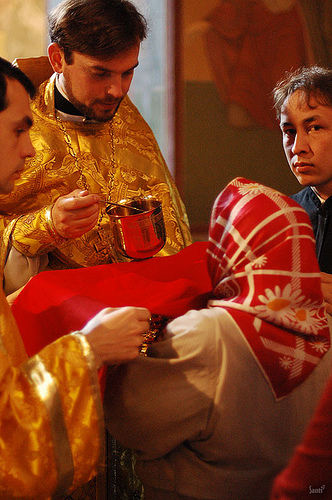 The sacrament of Penance and the Eucharist
Orthodox Christianity of the XXth century, with the help of some
well-known theologians, especially those of the so-called ' Paris School ',
rediscovered patristic theology and the patristic approach to the Church.
Nowadays this discovery is going on and is becoming more profound. I believe it
important to emphasise the difference between knowledge of patristic writings
and patristic theology. There are some scholars who study and publish Holy
Fathers, but do not go to church and, sometimes, are not believers. Patristic
theology is an approach to church life based on that of Holy Fathers. This means
bearing witness of the fullness of Divine revelation for your times. For Holy
Fathers, such witness was closely connected with true Eucharistic life. Thus,
for example, St John Chrysostom insisted that it is necessary to go to Communion
every time when attending Divine Liturgy. And in many of our parishes, though of
course, not in all of them, God's people receive Communion every Sunday and on
every feast day.
Such practice has its positive aspects, as it is a return to the patristic
understanding of church life. But this frequent communion has its dangers,
namely, two possible extremes. Some people, following a Russian so-called
tradition or, rather, custom, believe it necessary to go to Confession every
time before receiving Communion. Others totally forget that confession exists at
all. In both cases, repentance and confession lose all their meaning. And when
these 'foreigners' come to Russia , they are often not allowed to have
Communion. I remember how I — at that time a subdeacon — once went to common
Confession in the lower church of St Daniel 's monastery. When, after all the
canons and prayers, I approached the priest, he — a severe hieromonk — asked me:
'Did you fast yesterday?' I answered: 'Yesterday I was in an airplane'. The
severe hieromonk asked: 'Where are you from?' I said: 'From Paris '. His answer
was: 'It's not Paris here. It's Moscow . I cannot allow you to take Communion!'
The practice of three-day long fasting and obligatory Confession before each
Communion arose from the tradition of very rare Communion, which developed in
the Orthodox world (in Russia , Greece and other parts of the world). Thus, my
grandfather, the philosopher Nikolay Onufriyevich Lossky, went to Communion once
a year — and not on Easter, like many other people, but on Holy Thursday.
Naturally, he prepared himself for it during Lent and went to Confession before
Eucharist. Once again, those who take Communion rarely and, of course, every
time go to Confession, lose all sense of Confession which becomes a sort of
'passport' for approaching the Holy Sacrament of Eucharist.
There are two points about this situation. First of all, it is forgotten that
Confession as such, is a sacrament, albeit, of course, connected with Eucharist.
However, correct understanding of Orthodox patristic theology connects all the
sacraments with the Eucharist or, rather, with the one Sacrament of
Baptism-Chrismation-Eucharist. Of course, the objection will be made that we
'acknowledge one Baptism for the remission of sins' . Yes, we
do. But at every Divine Liturgy we renew the vows of our Baptism when we sing
(or say, as Greeks do) the Creed.
Second, there appears to be an approach to the concept of repentance which I
find totally distorted. In case of rare Communion, a person repents only for
some time in connexion with the Confession and Communion, and, as concerns the
rest of the time, he thinks very little about repentance. Therefore, I believe
we should ask ourselves what is the correct understanding of repentance. This is
especially important for those among us who renew their Communion at every
Sunday and festive liturgy. This question is important not only for the serving
clergy, but for all the members of God's people who take Communion every time
when they attend Divine Liturgy; in other words, conscious members of the Church
of Christ or the children of such conscientious Orthodox families.
Sunday is the summit of the week and, like the heart irrigates the whole body
with blood, Divine Liturgy and Communion must irrigate the whole week. A
Christian — especially if he takes Communion frequently — must not be satisfied
with being a Christian only on Sundays from 10 to 12. In other words, Sunday
should set the spirit for the whole week. It means that a conscientious
Christian must always live in a state of repentance. The state of constant
repentance consists in the following: no matter what I am doing, deep in my
heart I must keep the prayer of the Publican: 'God, be merciful to me, a sinner'
(Lk. 18 . 13) or 'Lord, have mercy on me, a sinner'. As we know, this prayer of
the Publican is the root of the so-called 'Jesus prayer'. And, as we all know,
the Jesus prayer is not only used by monks.
And when you come to receive Communion, your repentance takes a special form.
This special form consists in the fact that you need, like the Publican, to
comprehend the abyss of sin which exists between your sinfulness before God and
the greatest Holiness which you approach trembling with the fear of God. For
this, you need this constant repentance which has been just spoken of.
As far as Confession is concerned, every conscientious Christian normally has
a spiritual father. The sacrament of the pardon of sins can, of course, be
performed only by a hierarch or a priest (in the ancient Church, only by a
hierarch); while a spiritual father may not necessarily be an ordained
clergyman. In monasteries, for example, spiritual guidance is often provided by
simple monks. It also happens that spiritual advice is given by a woman (I have
had such an experience in my life: I have received very wise advice from
abbesses, and not only Orthodox ones, but also those of Anglican and Lutheran
convents). In any case, a conscientious Christian establishes his or her own
rhythm of confession on the basis of advice given by his or spiritual father (or
mother). Each of us, especially those who take Communion often, has his or her
own rhythm. I, for example, go to Confession once a month or so, some people —
once in two weeks, and some — even once a week. We must preach that Confession
is a sacrament and that it is necessary to go to Confession regularly. And the
rhythm must be decided upon individually with the spiritual father. It must also
be preached that frequent Confession and constant repentance are practices of
the ancient Church and not 'modernism' or 'renovationism' invented by the '
Paris School '.
It is some traits of the Synodal Period which are 'modernistic'; during that
period that the Russian Church was headed by a minister appointed by the Emperor
and every State functionary had to prove with a written certificate that he went
to Communion once a year. This is the origin of obligatory Confession before
every Communion. This Confession loses all its meaning of the sacrament of
reconciliation with the Church and becomes a 'passport' to the obligatory
Communion. Unfortunately, such understanding of Communion easily results in the
wrong ecclesiastic consciousness. This wrong ecclesiastic consciousness often
results in church nationalism. You can hear people say: 'I am Orthodox because I
am Greek' or 'I am Orthodox because I am Russian', but not: 'I am Orthodox
because I believe in Jesus Christ'.
In view of all that, we, clergymen, are to enlighten God's people by
preaching the truth and reminding them that the Church and church life are the
heart of the world even it the world does not know it. And every profession,
every ministry in the world, in society, must be illuminated with regular
Communion and constant repentance.
Let us remember, in this context, what the Apostle Paul says to Romans:
'Having then gifts differing according to the grace that is given to us, whether
prophecy, let us prophesy according to the proportion of faith; or ministry, let
us wait on our ministering; or he that teacheth, on teaching; or he, that
exhorteth, on exhortation; he that giveth, let him do it with simplicity; he,
that ruleth, with diligence; he, that sheweth mercy, with cheerfulness' (Rom. 12
. 6 – 8). In other words, whatever your occupation is, it should be perceived as
a gift from God.